Phuket is a city with a reputation that precedes itself. Visitors probably already have strong preconceptions of Phuket as a party city, and there certainly are plenty of parties to be had if that's what you're looking for. However, there is so much more to Phuket than partying and we'd like to spend a few minutes of our time, and yours, exploring what this incredible island has to offer.
If this brief travel guide inspires you to visit us here at the Phuket Elephant Nature Reserve and you have some questions, please don't hesitate to get in touch. Otherwise, keep reading if you'd like to get a better idea of the must-dos on your next trip to Phuket!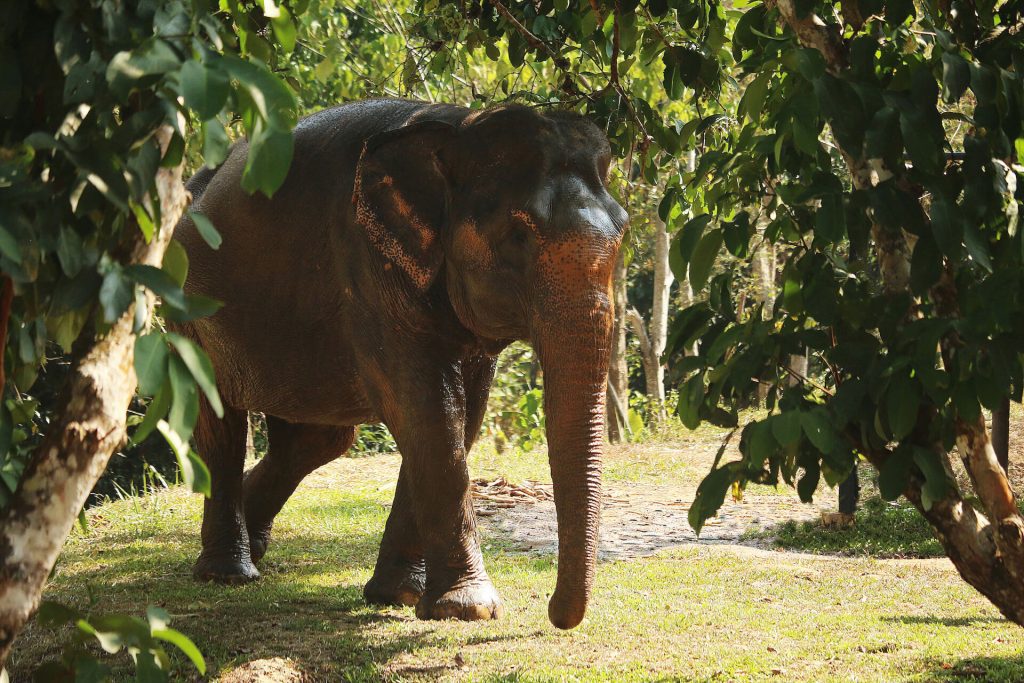 5. Visit the Phuket Elephant Nature Reserve
We're putting our elephant sanctuary right at the top of the list because we're passionate about elephant conservation. And it's our experience that visitors to Thailand are often similarly compassionate about the plight of elephants that have been abused in captivity.
If you love animals and want to support rescued elephants whilst staying in Phuket, then we'd love to see you here. Read a little more about our Phuket elephant activities and our Observation Deck Ban Chang Restaurant Phuket for all your favorite Western, Thai, and Isan (Northern Thai) dishes plus a great selection of drinks.
Some things you might like to know about us:
We never allow guests to ride or touch our elephants – Observation and education lay at the heart of our activities. Our rescued elephants have a new chance at a normal life in their natural habitat. This means you get to watch them behave as nature intended – and it doesn't get any more authentic than that!

All of our profits are reinvested into supporting our reserve and caring for our amazing elephants (and rescuing more)

We are dedicated to being as eco-friendly and sustainable as possible, offering free stainless steel drinking flasks to guests on our half-day elephant adventure to support our no single-use plastic policy. We also use solar power and repurpose elephant dung to make recycled paper and biogas

We are dedicated to conservation through tourism, which means that we provide guests with an unforgettable experience while continuing to offer our elephants the best life possible. Doing this helps us look after as many elephants as possible.

Once you meet our elephants and gaze into their kind, intelligent eyes, you'll understand how loving and friendly these gentle giants really are. It's an amazing experience!
4. Take a Boat Tour in the Andaman Sea or Phang Nga Bay
Phuket province is located in the south of Thailand. It is the biggest island in Thailand and sits on the stunning Andaman sea surrounded by endless beautiful coastline and islands to explore.
You can (and should) venture along the coast on foot or by car, but nothing compares to exploring by boat as you can see the island from a completely different perspective looking in at the land.
Pretty much everywhere is worth visiting by boat, but if you'd like a little more direction, look for tours that visit the world-class Similan Islands, the beautiful Phang Nga region, and the famous Phi Phi Islands (pictured above).
3. Spend at Least One Day Chilling on the Beach
Some people come to Phuket specifically to chill on the beach the entire time, and that is absolutely okay. But if you like to run around, seeing as much of a place as you can, we suspect you might not make time to relax on one of Phuket's many beaches.
We strongly advise that you take some time out from adventuring to take in the soft white sand, stunning sunsets, and the hushed susurrations as the waves lap the shore.
If you want to stay in a more remote resort, we recommend a visit to Mai Khao with its beautiful white sandy coastline (pictured above). There are too many other great beaches to name here, so we'll just mention two of our favorites: Layan and Surin Beaches on the west coast of Phuket.
If you do decide on at least one day chilling on Phuket's beaches, we recommend placing your beach day between especially active days, giving yourself a chance to recover.
2. You HAVE to Try Som Tum
While many Thai dishes have achieved fame and glory across the world, one sorely underrated dish is Som Tum. This zingy papaya salad originally comes from Northeast Thailand, but we feel the locals in Phuket have perfected it.
You should try as much local food as you can while in Phuket, but while we're sure most visitors will try Pad Thai, Tom Yum Goong, and some form of green curry, we simply can't let you head home without trying this spicy, zingy salad.
There's nothing like Som Tum in any cuisine we've ever tried and we hope you'll give it a taste (just be sure to inform the cook how spicy you like it!).
1. Scuba Dive or Snorkel in Phuket
If you're an avid scuba diver, then you've probably already added Phuket to your list, but if you've dabbled and you're looking for a new underwater adventure, then you are very much in luck.
The water temperature around Phuket changes with the seasons — from 26°C in winter to 30°C in summer. So, even at its coldest, Phuket's sea is warm and welcoming for divers.
Alongside the balmy temperatures, you can look forward to exploring coral reefs that host thriving populations of sea turtles and seahorses. There are shoals of small fish of all kinds of species as well as the more impressive manta rays and the largest fish in the world: whale sharks (pictured above).
We've only scratched the surface of what Phuket has to offer you. We hope, however, that we've inspired and enthused at least a few readers to make the most of their next big trip to Phuket. If you'd like to visit our elephant sanctuary and you want to learn a little more about us, please read our About Us page.
Otherwise, we wish you a great trip and hope you'll stop by.