You've probably clicked through to here because you care about elephants. So do we! We've given this blog the title Guide to Phuket's Most Ethical Elephant Sanctuary because we've gone to every measure we can conceive of to ensure that ethics and care steer everything we do here at the Phuket Elephant Nature Reserve.
However, there is no official title or award given to the most ethical elephant sanctuary; we just know all of the efforts we're making to ensure we're doing things right.
We'd love to tell you all about ourselves and why we consider ourselves to be one of Phuket's most ethical elephant sanctuaries.
If you'd like to support our elephants, please either donate some elephant feed or book your Phuket Elephant Nature Reserve visit to meet the elephants and learn about all of our carefully conceived initiatives.
If anything we say here inspires a few questions, please don't hesitate to get in touch. We are happy to answer any questions you have.
A Brief Introduction to the Phuket Elephant Nature Reserve
To start with, it's probably best to tell you a little about us and how we started the Phuket Elephant Nature Reserve. If you'd like to know, even more, check out our About Us page.
We were founded by a cooperative of passionate experts who have worked in the elephant welfare field for many years — in fact, we have many decades of collective experience when we add it all together. We felt that there was a need for an elephant sanctuary in Phuket that does as many things right as possible, helping elephants, educating people, and being kind to the environment.
We knew that there was an appetite from locals and tourists alike to visit truly ethical elephant sanctuaries, so we were confident that our dream would be successful.
Filled with enthusiasm, we worked hard to design and build the sanctuary; the only problem was that we finished building the sanctuary at the end of 2019, just before the COVID-19 pandemic effectively stalled the tourism industry in Thailand. We had our sanctuary and we had rescued three beautiful elephants, but we didn't have any guests to visit the sanctuary!
It's been a difficult two years, but we're extremely pleased to have made it through the other side — partly due to our hard work and partly due to the kind generosity of people around the world who donated to help feed and look after our elephants.
With international COVID-19 vaccinations, Thailand's tourism industry is starting to come back to life again, and we are excited to welcome people back to the Phuket Elephant Nature Reserve. We can only continue to support our elephants by running our ethical elephant adventures in Phuket. So, what makes us more ethical than some of the other sanctuaries?
The Ethical Work we do at the Phuket Elephant Nature Reserve
The Elephants Come First
First and foremost, the elephants always come first here at Phuket Elephant Nature Reserve. We started this organisation to save and protect as many elephants as possible, which means that all money raised from visits and elephant activities is used to feed, house, and provide veterinarian care.
This money buys food and it pays the wages of expert staff members who look after our elephants. We are also always looking to expand the sanctuary, obtain more land, and rescue more elephants.
No One Ever Rides or Touches the Elephants
It is our firm belief that the elephants in our care should be treated with dignity and respect. They are our responsibility and we take this responsibility very seriously.
This is why we never ride our elephants or allow guests to ride them.
We firmly believe that riding tours are not fair or healthy for elephants, and they pose a risk for the riders too.
Our activities are also observation-only. This means guests cannot touch or feed our elephants. As a result, our animals can live as normal and happy a life as possible in their natural habitat.
We ensure that the activities our guests can do with our elephants are enriching for both parties, such as walking through the jungle with them and watching them bathe.
Taking Care of the Environment
To us, elephant conservation and environmental conservation go hand in hand. They are both parts of the same effort as elephants can't thrive if humans destroy their habitats and the environment as a whole.
This is why we weave environmental conservation into everything we do. While this results in dozens of environmentally friendly policies and behaviours, perhaps the most interesting is our Elephant Dung Recycling Centre.
This recycling centre converts the VAST amount of dung our elephants produce into paper and biogas for cooking. Not only is this a great way to generate a little more money for the elephants, but it also creates paper and biogas that then don't need to be taken from the local trees and ground, preserving the natural habitats that are so valuable.
We also ban single-use plastics throughout the reserve. This is an ongoing dedication to the environment and it is pushed a step further with our complimentary stainless steel water flask that we gift to guests who visit the sanctuary for our Half-Day Elephant Adventure Program.
These are high-quality flasks that encourage visitors to drink water from reusable flasks while also promoting the sanctuary around Phuket and Thailand as a whole. After all: the more people who visit us, the more elephants we can save!
Designing Experiences that the Elephants Enjoy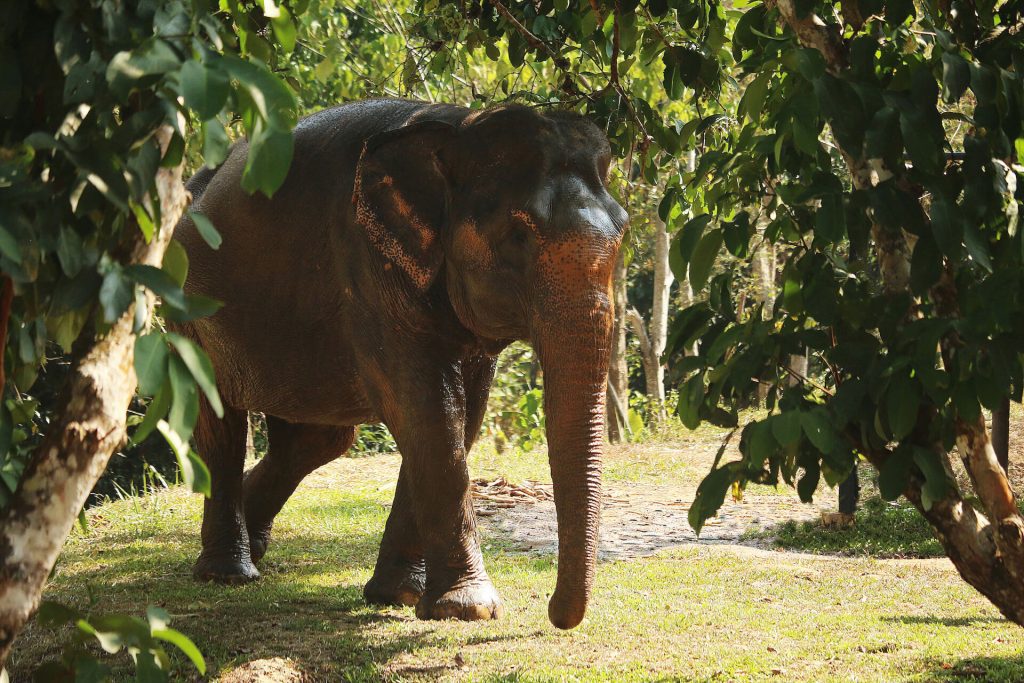 Lastly, we'd like to tell you about the experiences we offer here at Phuket Elephant Nature Reserve and why they have been designed so that the elephants enjoy them as much as possible.
There is simply no point in rescuing elephants if we then put them through experiences that they don't enjoy.
We believe the elephants we rescue have gone through enough hardships in their lives and that they deserve a safe and enriched life in our sanctuary. This is why we have put work into developing adventures that are fun and educational for visitors but also beneficial to the elephants.
We find that our guests care deeply about our elephants and they appreciate the additional care we take to design activities that help the guests contribute to the elephants' quality of life.
At the time of writing, here are some of the most popular adventures and experiences you can do at the Phuket Elephant Nature Reserve (all of which draw in revenue that is used to directly benefit our elephants):
Meet our rescued elephants (no touching)
Preparing and cooking herbal treats for the elephants
Nature hike with the elephants (giving them their daily exercise)
Mud and sand spa observation (watch while our elephants enjoy applying a protective layer of mud or sand to their sensitive skin)
Education about our elephants' life, vet care, and diet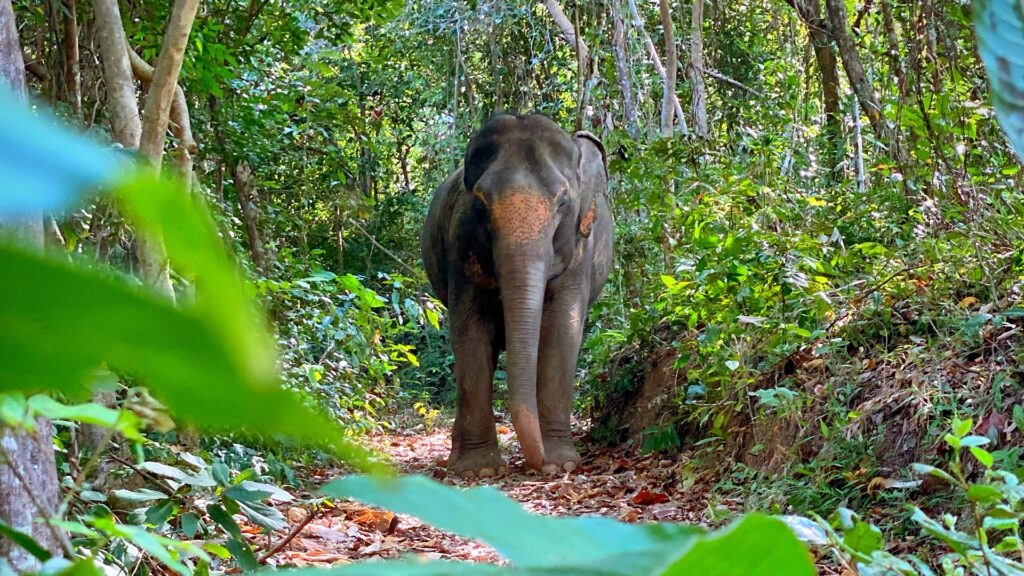 While not necessarily a service that helps the elephants, we view anything as helpful to the elephants if it helps guests have a great time, spreading recommendations to their fellow travellers.
Because of this, we also go above and beyond for our guests, offering hotel pick up and drop off in air-conditioned vans for a small additional fee, a delicious Thai lunch including a cooking demonstration where you learn to cook the famous Pad Thai & Tom Yum, complimentary photos, access to the Bang Chang Restaurant Phuket, and a carefully designed elephant care adventure experiences.
We want guests to have the best time possible so that they come back or at least recommend the Phuket Elephant Nature Reserve to their friends and families. The more people who come here, the more elephants we can help!
We hope we've convinced a few readers to choose the Phuket Elephant Nature Reserve on their next visit to Phuket. We can't wait to show you around!