Have you ever wondered how the elephants at our ethical sanctuary spend their mornings? The truth is, there's no definitive morning routine for our elephants — but that's a good thing! Our rescued animals are free to live as nature intended, so they can spend their mornings however they please.
Of course, there are typical habits and behaviours, and we'll share some of these in this blog. But the best way to feed your curiosity is to join one of our morning programs at Phuket Elephant Nature Reserve and see for yourself.
Our Half-Day Elephant Adventure (including group and private options) and Short 90-Minute Elephant Adventure have morning programs that start at 9 am. Our Private Guided Adventure Hikes are available on demand too, so we can arrange a morning hike if that's what you prefer.
For now, though, let's make do with spending a morning with the elephants at Phuket Elephant Nature Reserve in this virtual setting! If you have any questions for the PENR team, please contact us for the information you need.
A Brief Introduction to Life at Phuket Elephant Nature Reserve
To understand how our elephants spend their mornings, you need to know a little about our sanctuary. We are located on 30 rai of lush jungle, which is around 48,000 square metres. The thick and varied vegetation covering our land is the ideal natural habitat for Asian elephants.
Our animals sleep in overnight shelters which have generous proportions of 20m x 10m. This makes them some of the largest such shelters in Phuket. It's in these spaces that our rescued elephants get the sleep & safety they need.
Naturally, elephants who have lived their lives in captivity have different sleeping habits to those in the wild. Generally speaking, elephants in captivity sleep for anywhere between three and seven hours a night, but this involves waking up to feed.
It's important to make the distinction between working elephants in captivity and rescued elephants in sanctuaries who couldn't survive in the wild. You can learn more about this topic in our guide Is Being in Captivity Unhealthy for Elephants?
What Do Elephants Do in the Morning?
When living as nature intended, elephants primarily spend their time eating, roaming, bathing, and playing. As such, you can expect all of these behaviours from these gentle giants over the course of a morning.
Elephants Love to Eat and Roam
Our elephants can eat as much as 180kg of food in a day! Needless to say, tucking away that much grub takes time, so it's more a process of constant grazing.
The diet of an Asian elephant varies throughout the year. Different grasses and foliage flourish on our land as the seasons change. For example, during the rainy season, a variety of grasses (including Napier grass) grow thick and luscious, providing plenty of sustenance. Vines, another favourite with some of our elephants, also grow at this time of year.
Bananas and banana tree stems are another hit with our animals. It's common to see Bow, Lotus, and Thonglor under the shade of palm trees munching on juicy stems. Elephants eat all parts of banana trees, so we often collect unwanted stems from generous people in our community.
The stems have a high water content, so they're great for hydration. They're also rich in fibre, helping to aid digestion and promote a healthy digestive system.
And when our elephants aren't eating vegetation that grows naturally on our land, they're enjoying a range of fruits — including bananas, pineapples, pumpkins, and watermelons — rice supplement mixes, and specially formulated nutritional pellets.
We understand the importance of elephant conservation, so we ensure our elephants have a varied diet that gives them everything they need to stay healthy, happy, and strong.
Because elephants eat so much food, they happily roam around looking for what they need. In the wild, Asian elephants have been known to walk as far as 50 miles per day in search of sustenance, so this is another natural behaviour that ours can enjoy.
As you can see, then, walking and eating are integral parts of our elephants' mornings!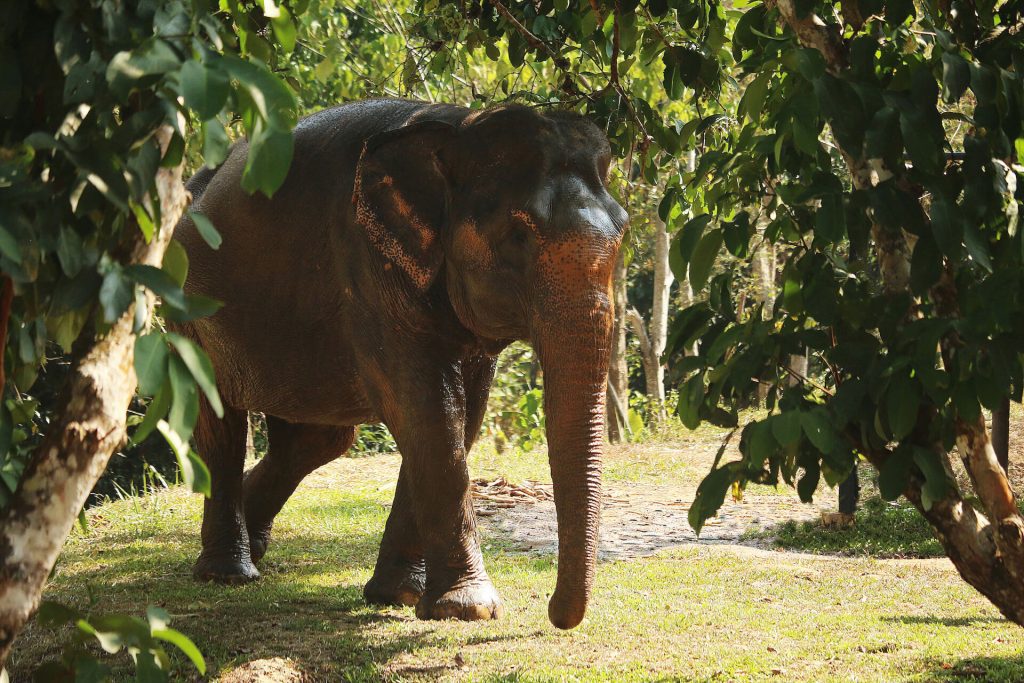 Bathing and Playing are Natural Elephant Behaviours
When our elephants aren't eating and roaming, they're probably bathing or playing. Did you know that elephants love water? Bathing and playing in ponds is a natural behaviour and one that improves their physical and mental health.
In the mornings, then, it's common to see our elephants wade into our ponds, smack their trunks on the water, splash and roll around, kick their legs in the air, dunk their heads under the surface, and revel in their freedom.
We're especially delighted when our rescued elephants fully submerge their heads under the water. This shows that they have confidence and trust in their surroundings.
Our wonderful Observation Area overlooks the large pond near the entrance to the sanctuary. Here, you can sit, relax, and enjoy watching the heartwarming sight of our elephants bathing, playing, and grazing on the palms and fresh vegetation.
Sitting and watching them enjoy their freedom is a captivating and peaceful experience. And because these behaviours are completely natural, it's highly educational too.
Because our elephants bathe whenever they want, we don't offer any kind of bathing activities for guests. They are perfectly capable of looking after themselves. This is just one of the reasons, of course; find out the others by reading our guide Why Bathing with Elephants is Unhygienic and Unethical.
And when elephants aren't bathing, you may find them covering themselves with mud. This is another natural behaviour that is rarely allowed for working elephants in captivity. 
Elephants love to slather on the dirt for numerous reasons. It helps to repel pesky bugs and offers protection against the sun. Thick, wet mud helps to keep them cool during the hottest months, while dirt and sand allow them to dry off quickly in cooler weather, helping to keep their skin warm.
And if that wasn't enough fun, you even find our elephants playing with each other, throwing around old tyres, or even chasing chickens!
We hope these insights have inspired you to visit us! Head to the Meet Our Elephants page and get to know Bow, Lotus, and Thonglor a little better. 
Spend a Morning with the Elephants at Phuket Elephant Nature Reserve!
Are you ready to spend a morning with our elephants? We can't wait to welcome you to our ethical sanctuary! We have rescued our animals from environments of neglect and exploitation, so by choosing us, you're supporting conservation efforts through responsible tourism.
Browse our range of ethical elephant activities in Phuket to find the ideal experience for you. And if you have any pre-booking questions for us, please just get in touch.