When planning your trip to Phuket, there are many things to consider. Where will you stay? What activities will you do? What should you pack for a holiday in Phuket? Given Thailand's sunny image, you may not think twice about the weather. However, it's important to note that our country has a rainy season.
Generally speaking, the Phuket rainy season lasts between June and October. And while we receive most of our annual rainfall in that period, it's hardly unpleasant. The average temperature remains in the high 20s.
There are plenty of dry days, and when it does rain, it's unusual for it to last all day. The low season also delivers arguably the best sunsets of the year!
At the Phuket Elephant Nature Reserve, we provide ethical elephant activities in Phuket. And while we're specialists in Phuket elephant experiences, we also know plenty about the many things to do on our island, especially on rainy days!
If you have any questions about our activities and experiences, please contact us. For now, though, let's explore what you can do when it rains in Phuket.
Forget the Rain with a Spa Treatment
If you're going to spend a rainy day inside, why not do so in one of the most relaxing ways possible? Spa treatments are a famous part of Thai culture, so there's no better place to pamper yourself.
One of the most popular spa treatments is the Thai massage. These massages don't involve any oil and take place in private rooms with dim lighting. And while they are relaxing, they are also surprisingly energising.
A typical comment made about Thai massages is that they are like yoga but without any of the work.
As one of the most unique things to do in Phuket when it rains, you should also bear in mind that many other people may have this idea at the same time. We advise having a plan in place!
Take a Thai Cooking Class
Whether you're a kitchen novice or a culinary expert, booking a Thai cooking class is a great way to pass the time when the weather in Phuket takes a turn for the worse.
You can find classes in dedicated schools and many hotels provide their own too. Whichever option you choose, the people running your class will buy and prepare all the ingredients in advance. All you need to do is create something edible!
And if you don't, our guide to the best street food in Phuket is here as your safety net!
Some of the most popular dishes made in cooking classes are; Thai Green Curry, Tom Yum Goong, and Som Tum.
Preparing food and eating meals are at the heart of every culture. As such, learning more about Thai cuisine and mealtime customs is a great way to get to know our country better.
Lose Your Bearings at the Upside Down House
Known as Baan Teelanka in Thai, the Upside Down House is exactly what the name describes. Located on the bypass road outside of Phuket Town, this inverted house stands on its roof. It offers hours of fun and plenty of silly photo opportunities.
The house has three floors, all of which are, you guessed it, upside down. From the living room to the kitchen to the bathroom, everything appears to be hanging from the ceiling — even a tuk-tuk!
With free WiFi, you can upload your best photos to your social media there and then.
Give Muay Thai Boxing a Go!
Rainy days in Phuket don't necessarily have to be easygoing. If you want to work up a sweat, there are plenty of places offering Muay Thai Boxing classes. If you've taken even just one walk down Bangla Road near Patong Beach, you may already know how popular this sport is here.
If you find Muay Thai Boxing exciting on TV but haven't yet felt the thrill of a live event, use a rainy day to your advantage and take a class.
There are many training camps across Phuket, all of which cater to the full spectrum of skill and experience levels, from beginners to professionals.
And once you've tried this, why not look into some of the other best adventure activities to do in Phuket?
Explore Phuket's Picturesque Old Town
If you don't mind getting a little wet, a day with light rain is a great opportunity to look around Phuket Town, the historical part of our city. You might need an umbrella, but as we touched on in the introduction, the weather will hardly be unpleasant.
If anything, the temperature on rainy days is usually more agreeable to walking around than on sunny days.
A tour of the town takes in photogenic Sino-Portuguese mansions, old streets, markets, and temples, all of which are in a compact space and easy to walk between.
With ample cafes and coffee shops, bars, restaurants and selfie opportunities, walking the Old Town is a delightful way to spend some time. If you're on a budget, put this at the top of your list of cheap things to do in Phuket.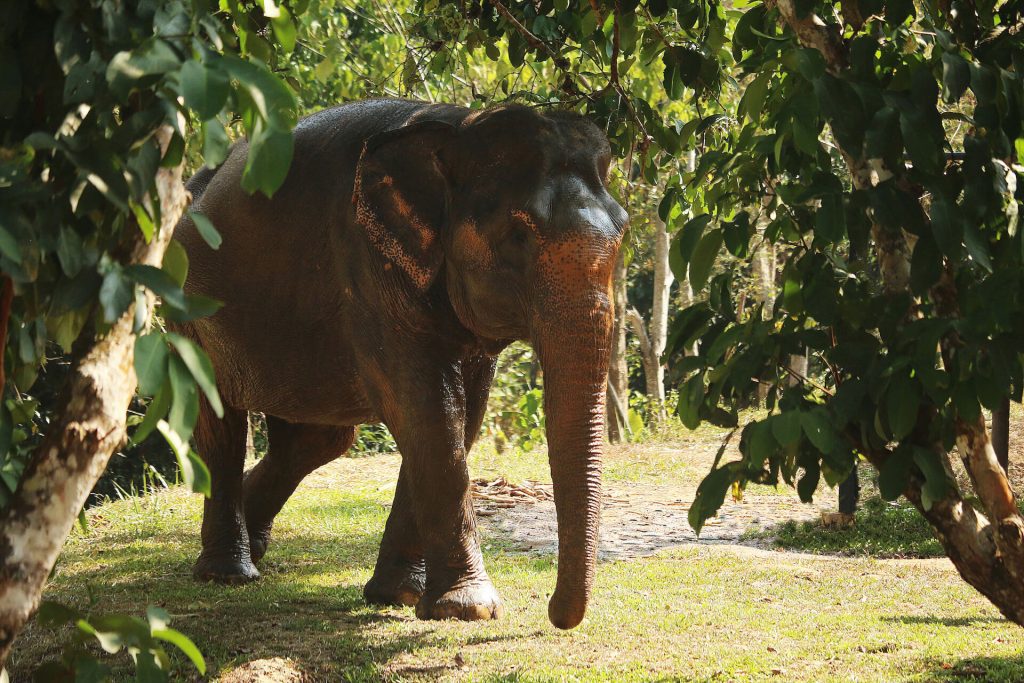 Make the Most of Phuket Come Rain or Shine!
Phuket is a fun, exciting tourist destination, so there are many more activities for rainy days than those covered above.
At Phuket Elephant Nature Reserve, we provide one of Thailand's quintessential experiences: ethical elephant activities in Phuket.
Our experiences focus on observation and education, so you can rest assured, all our rescued animals live a happy, peaceful life in their natural habitat.
If you have questions about any of our elephant experiences in Phuket, please don't hesitate to get in touch.