Do you want to make elephant observation part of your trip to Thailand? Do you want to support conservation efforts aimed at protecting these majestic animals?
At the Phuket Elephant Nature Reserve, we provide ethical elephant activities in Phuket that allow you to enjoy an unforgettable experience with a clear conscience.
We prioritise the health and well-being of our rescued elephants. You can be sure that our Phuket elephant experiences and activities do not include unethical and unhygienic practices such as bathing.
Keep scrolling down to find out why.
If you have any questions for us about our activities and experiences, please feel free to get in touch.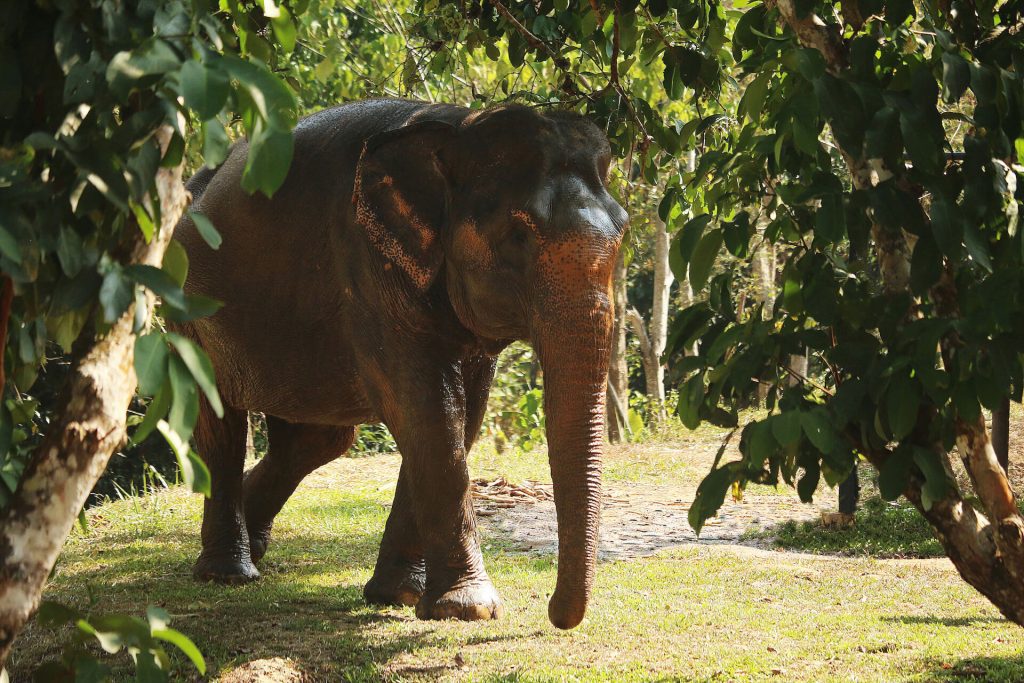 Why Does the Phuket Elephant Nature Reserve Not Allow Elephant Bathing?
Our rescued elephants live in their natural habitat, i.e. lush jungle. This makes them feel safe and happy — which is exactly what we want!
What's more, our elephants are free to embrace their natural behaviour, be it roaming, socialising, or bathing.
In the wild, elephants love bathing in rivers, streams, ponds, and muddy wallows.
Rolling around, splashing water, submerging their bodies, and covering themselves with mud are all natural behaviours for elephants. What's more, they like peace and quiet when doing so.
Put simply, then, our elephants bathe when they want to bathe. We do not force them to do this or any other activity.
And of equal importance, when they do bathe, our visitors do not join in.
First of all, it's unhygienic, but more on that below.
Allowing humans to crowd around a bathing elephant is also unnatural behaviour. It's not a natural environment for this basic act of self-care.
In such conditions, elephants may become nervous or scared, and that's unsafe for all involved.
We promote elephant activities based on observation and education. And an elephant that has the freedom and confidence to behave as it would in the wild is the best to watch and learn from.
When you have finished reading this guide, learn more about the importance of elephant conservation.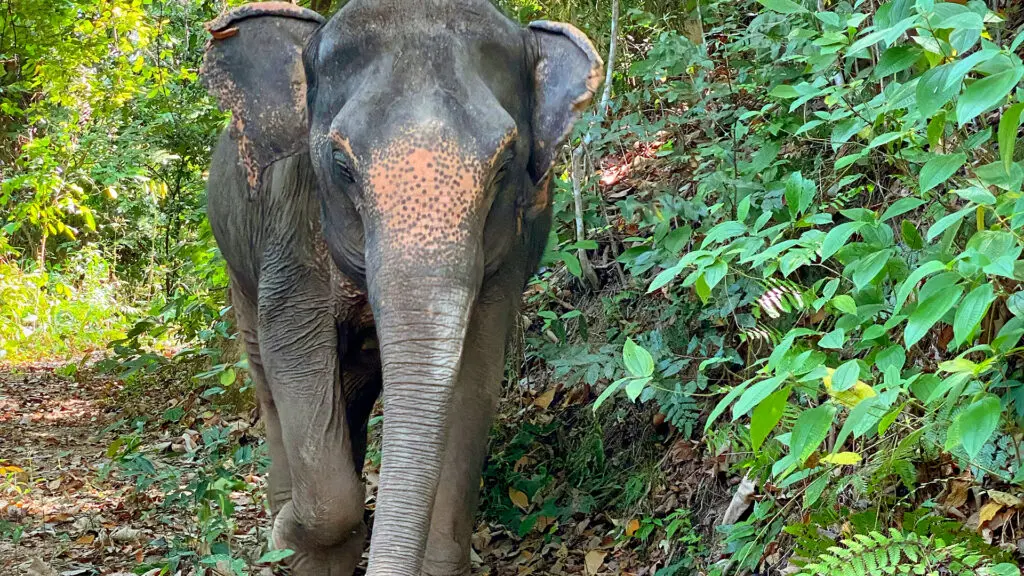 Is Bathing with Elephants Unhygienic?
Yes, elephant bathing is unhygienic. As such, it's harmful to you and the elephant.
If an elephant stays in the water for an unnaturally long time, it will eventually urinate and defecate in it.
By entering this environment, you significantly increase the likelihood of becoming seriously ill or catching an eye infection.
What's more, in wet and slippery conditions, you may also fall. Of course, this can cause an injury in its own right.
With a potentially stressed, three-tonne elephant nearby, this is something you very much want to avoid!
All things considered, elephants do not want to be bathed by humans, and humans shouldn't bathe elephants.
For further reading about ethical issues surrounding elephants, read our previous blog, Is Being in Captivity Unhealthy for Elephants?
Join Us for Ethical and Hygienic Elephant Activities in Phuket!
At the Phuket Elephant Nature Reserve, we value the health, safety, and well-being of our elephants. We also want you to have the best possible experience on your visit too!
For this reason, we absolutely do not offer elephant bathing.
For an insight into what you can expect when you visit us, read about our Half-Day Elephant Adventure.
After exercising, our elephants cool down in a specially designed Hydrotherapy Pool. Here, they have all the space they need to swim and splash around as they please.
Our Mud and Sand Spas then allow the elephants to cover themselves with mud. This protects their skin against insects and the sun.
For many of our guests, watching our elephants rolling around in the mud and having the time of their lives is a true highlight.
Check Out Our Elephant Experiences in Phuket
By visiting the Phuket Elephant Nature Reserve, you help to support conservation efforts.
Browse our range of elephant activities in Phuket to see how you can create memories you'll never forget — or regret.
For more information about our experiences or any other aspect of the work we do, please don't hesitate to contact us.