If you've found this blog because you're researching honeymoon destinations, congratulations from everyone at Phuket Elephant Nature Reserve!
You've probably planned a beautiful, unforgettable wedding day, so you naturally want your honeymoon to follow suit — albeit with fewer worries and nerves!
With its pristine beaches, vibrant culture, and breathtaking landscapes, Phuket is the perfect destination for a romantic getaway.
While there is no one-size-fits-all itinerary for a perfect honeymoon, we've curated a list of highlights that blend romance, relaxation, and a sense of adventure.
As a leader in ethical elephant activities in Phuket, we've got genuine local insights that also ensure you have an authentic Thailand experience.
Keep scrolling down to read our guide to the perfect honeymoon in Phuket.
And for more information about our Phuket elephant experiences and activities, please feel free to contact us.
Stay in One of Phuket's Luxury 5-Star Resorts
Phuket has many luxury 5-star resorts that make the perfect base for an incredible honeymoon.
While endless amazing experiences are waiting for you here, there will be some days when you don't want to do much at all.
The SALA Phuket Spa & Resort is a stunning place that honeymooners and travellers absolutely love.
This sophisticated 5-star resort overlooks the glistening azure waters of the Andaman Sea and features a collection of pool villas, suites, restaurants, luxurious facilities, and a beautiful beach with stunning sunsets!
There aren't many better places to call your home away from home on your Phuket honeymoon!
Relax and Unwind with Pampering Spa Treatments
Even the most organised of couples can find wedding planning stressful.
And following the nerves and non-stop nature of the big day itself, you'll almost certainly be due a spot of pampering on your honeymoon!
Treat yourselves to rejuvenating spa treatments tailored to enhance your relaxation and well-being.
Phuket is home to world-class spa resorts that offer a variety of options, from traditional Thai massages to aromatic oil therapies.
Near Phuket Elephant Nature Reserve there is a smorgasbord of fantastic massage options including Oasis Spa, Apsara Spa Laguna, Deep Relax Spa and many more.
Let skilled therapists ease away any residual wedding stress, leaving you both refreshed and ready to embark on further adventures.
We've included spa treatments on our list of the best rainy-day activities in Phuket — something to keep in mind if you experience a downpour!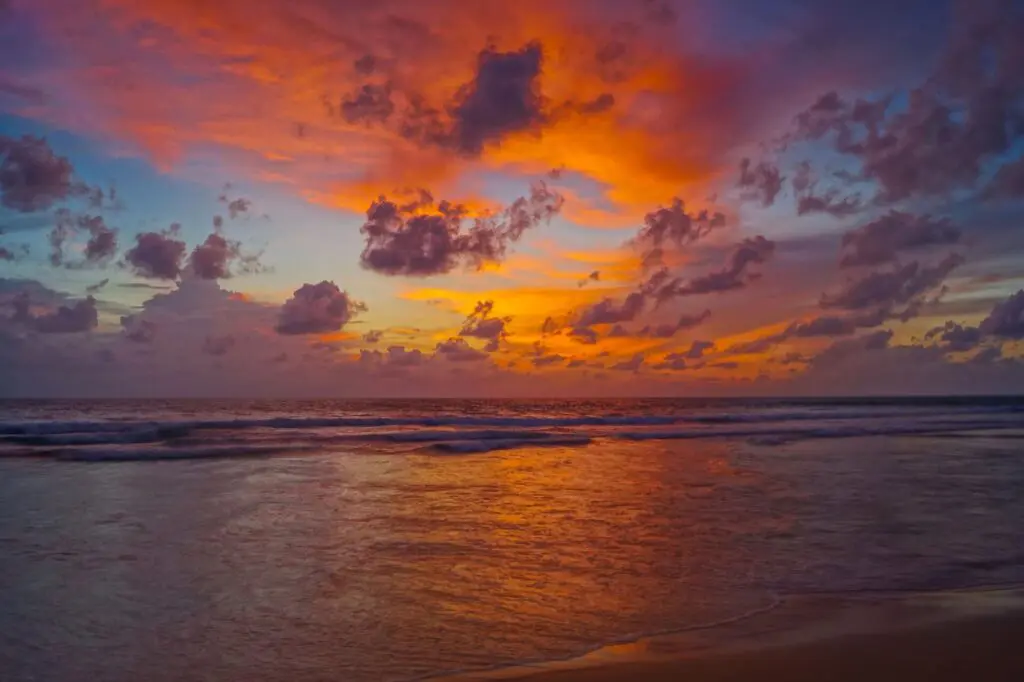 Sunset Cruise with Dinner
For a truly unique dining experience, book a romantic sunset cruise along Phang Nga Bay, famous for its dramatic limestone karsts and emerald-green waters.
Sip on refreshing cocktails as you soak up the breathtaking scenery that unfolds before you.
Your sumptuous dinner, specially prepared by talented chefs, will taste even better as you bask in the glow of the setting sun.
The intimate ambience and spectacular surroundings make for an unforgettable evening.
If you want to combine fine dining with traditional local street food, read our recommendations for the best street food in Phuket.
Island Hopping to Phi Phi Islands
Embark on a captivating island-hopping adventure to the Phi Phi Islands, a picture-perfect part of Thailand renowned for crystal-clear waters and stunning limestone cliffs.
Dive in and explore the vibrant marine life while snorkelling together, hand in hand, before venturing to hidden coves, pristine beaches, and secret lagoons.
The Phi Phi Islands offer an enchanting backdrop for a romantic escape and are sure to leave you spellbound.
For even more honeymoon inspiration, check out our previous guide What Should I Do with a Week in Phuket?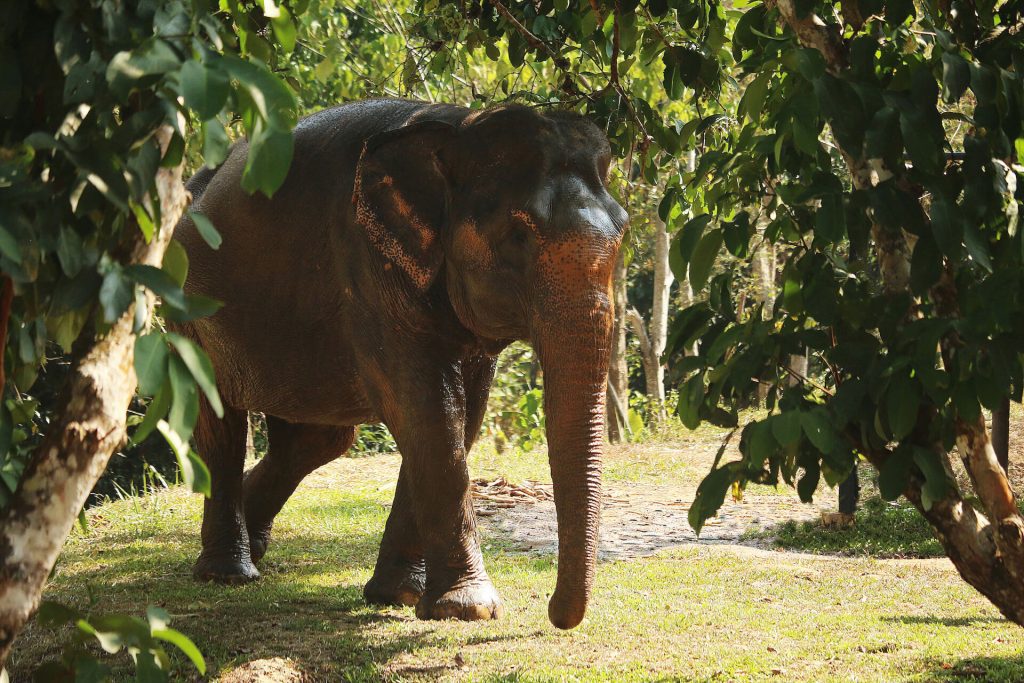 A Half-Day Elephant Activity at Our Ethical Elephant Sanctuary
An awe-inspiring encounter at an ethical elephant sanctuary is a must for anyone visiting Thailand!
And when you come to Phuket, The Phuket Elephant Nature Reserve is here to welcome you!
Immerse yourselves in a one-of-a-kind experience as you learn about the gentle giants that call our sanctuary home.
Watch as our elephants enjoy their freedom, bathing in natural water ponds and playing in the mud, while our knowledgeable guides share insightful information about their conservation and well-being.
By participating in ethical elephant tourism, you contribute to their welfare and preservation.
If this sounds like your idea of a great time, we think you'll love our Half-Day Elephant Adventure in Phuket!
Say "I Do" Amongst the Elephants!
Are you still undecided about your wedding venue? If you're looking for a truly unique and extraordinary experience, why not exchange vows in our ethical elephant sanctuary?
We have beautiful gardens and a large main seating area with cover against the sun.
Our dedicated team will help you plan every detail, including menus, full decoration, and all other requirements you need to create the perfect day.
Weddings are one of our highly popular range of Phuket elephant experiences, and we have planned many magical ceremonies in the past.
You can rest assured, we're adept at combining personal celebrations of love and the wonders of nature.
Make Our Phuket Elephant Activities Part of Your Honeymoon!
We hope this guide to the perfect honeymoon in Phuket has inspired you to start planning your post-wedding break!
Browse our range of ethical elephant activities in Phuket and find out which experiences make the perfect fit for you.
And don't forget, you can contact us whenever you have any questions for us!