There's no better way to connect with a city and country than through its native cuisine. The ingredients, seasoning, preparation, and manner of eating — embracing local customs is a surefire way to make yourself feel at home, especially if you're staying for an extended period.
Phuket's food scene is one of its primary attractions. Our island's food hits the spot in a way that's hard to beat, be it tangy, spicy curries, traditional stews, sweet pancakes, or one of the many other delicious dishes on offer.
At the Phuket Elephant Nature Reserve, our expertise lies in providing ethical elephant activities in Phuket. But we also consider ourselves experts in local culture too — and that includes street food! This is why we have put together this brief guide to the best food in Phuket.
If you have any questions about our elephant experiences in Phuket or related aspects of life on the island, please don't hesitate to contact us.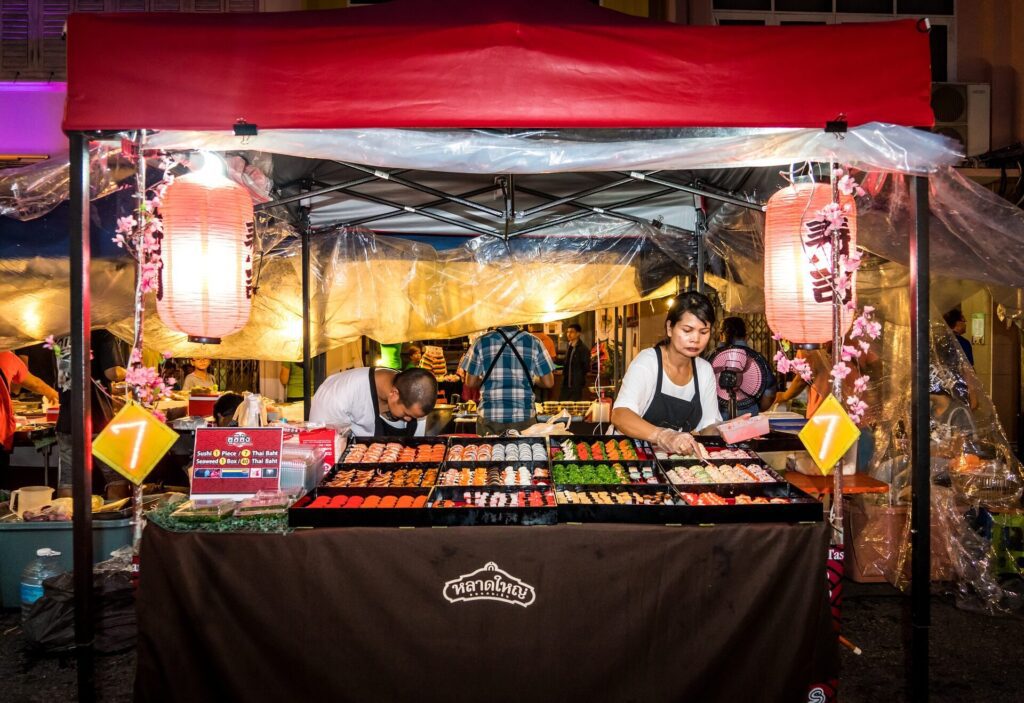 Find Your Perfect Combination with the Versatile Noodle Soup
It's rare to list versatility among a dish's best qualities, but the adaptability of noodle soup is what makes it so popular in Phuket street food markets.
These soups have a broth base and a choice of chicken, pork, beef, or fish balls. In addition, further ingredients include seafood, vegetables, ground beef, or tofu. Most street food places in Phuket will also offer multiple noodle types, such as flat white noodles, glass vermicelli, and instant noodles.
On top of this, you can use an array of condiments, like ground chilli flakes, chilli in vinegar, and fish sauce.
So, while noodle soups are delicious to start with, you have full control to tailor what goes into them and the level of spice.
Surprise Yourself with a Different Style of Fried Chicken
When you first arrive in Phuket, you may need a meal or two to bridge the gap between what you're used to at home and what's available in the Phuket Old Town food market and beyond.
While fried chicken in the west is often an unappetising, unfulfilling takeaway, it's a very different story here.
Plenty of stalls in Phuket street food markets (and night markets) sell large portions of fried chicken, be it wings, drumsticks, or thighs. And the good news is that the Thai-style batter makes this recognisable food far tastier than the alternatives you're probably more familiar with.
In addition to the chicken itself, your meal also comes with sticky rice. This combination is highly affordable and will barely make a dent in your budget, leaving ample money spare for all the other must-do things on a trip to Phuket.
Indulge in a Roti for a Sweet Snack or Dessert
Roti is a Thai-style pancake hugely popular with locals and tourists alike. Available with savoury and sweet fillings, it's another versatile food that doesn't compromise on flavour or satisfaction.
Generally speaking, Thais prefer a savoury roti. For example, one way to enjoy them is at breakfast with a curry dish on the side.
But in the wider scheme of things, this pancake is best known as a dessert. One typical variation involves stuffing a roti with sliced banana before slathering on condensed milk. The result is then cut into small pieces.
Given the tourist population in Phuket, chocolate toppings and Nutella are also widely available. For the same reason, you'll see the word "pancake" as much as roti.
And you'll likely see both at every turn because they are everywhere on the island!
And Don't Forget the Classic Pad Thai!
Such is the popularity of this dish that it barely needs an introduction. It is, without doubt, one of the most popular options in Phuket street food markets.
Ironically, the origins of Pad Thai stretch back to China. What's more, tourists love it more than the locals. But that doesn't detract from the incredible flavour Pad Thai delivers!
So, what actually goes into a Pad Thai? Well, first there's the stir-fried rice noodles. Then you have eggs, dried shrimp, tofu, shallots, garlic, fish sauce, red chilli pepper, and palm sugar. The final meal is then served with lime and, typically, peanuts.
If that wasn't enough, Pad Thai usually comes with bean sprouts, garlic chives, and sometimes even banana leaves on the side.
Explore the Best Street Food in Phuket and Everything Our Island Has to Offer!
The above barely scratches the surface of all the amazing dishes in the Phuket street food markets. We simply couldn't cover all the flavoursome foods in a single blog.
The only way to truly explore our island's food scene is to find out what to pack for a trip to Phuket, jump on a plane, and start experimenting!
And with a full stomach, you'll be ready for all kinds of adventures!
As the island's foremost ethical elephant sanctuary, we not only understand the importance of elephant conservation, but we also love to help visitors complete their Thailand bucket lists.
No trip to our country is complete without responsible elephant activities in Phuket. Our friendly team offers Phuket's best elephant experiences while prioritising the health and happiness of all our animals.
For more information about any of our activities and experiences, please get in touch.