When you visit a new destination, do you seek out cultural attractions and experiences above all else?
Our island home of Phuket is well-known for its beautiful beaches, lively nightlife scene, and island-hopping opportunities.
For a quintessential Thailand experience, you can also find ethical elephant activities in Phuket.
But if you're visiting Phuket for a tropical vacation in paradise, there's plenty of history and culture to explore too.
Keep scrolling down to find our recommendations for culture lovers in Phuket.
If you have any questions about our Phuket elephant experiences, please don't hesitate to contact us.
Admire the Architecture and More in Old Phuket Town
Old Phuket Town is perfect for culture lovers. It's small, making it easy to walk around and see everything, and packed with historical sites and cultural interests.
For many people, the main attraction here is the stunning architecture found on Soi Romanee.
This street is home to the colourful Sino-Portuguese mansions and buildings that make this one of the most photographed places in Phuket.
Dibuk Road and Thalang Road are the main thoroughfares that box in Old Phuket Town, and the latter is home to the famous Sunday Walking Street Market.
Experiencing a market is a great way to sample local Thai culture. Read our suggestions for the best night markets in Phuket.
Old Phuket Town is dotted with quaint cafes, wonderful boutiques, and fascinating art galleries.
Simply taking a stroll through the streets is a great way to discover the local culture.
Visit Phuket's Museums to Better Understand its Past
Multiple museums in Phuket offer deeper insights into the island's history, making them perfect for culture lovers.
One of the most popular is the Thai Hua Museum, which is on Krabi Road in Old Phuket Town.
Based in a colonial-style mansion dating back to 1934, this museum showcases the history of Phuket's first Chinese immigrants.
This makes the Thai Hua Museum a great place to learn about the figures who have had a major influence on Phuket's recent past.
Some of the other museums in Phuket worth your consideration include:
Chinpracha House Museum
Baan Ar Jor House Museum
Peranakannitat Museum
Thalang National Museum
Peranakan Phuket Museum
Phuket Mining Museum
Heading to a museum is also a great way to make use of a day when it rains. Discover other ideas for what to do on a rainy day in Phuket.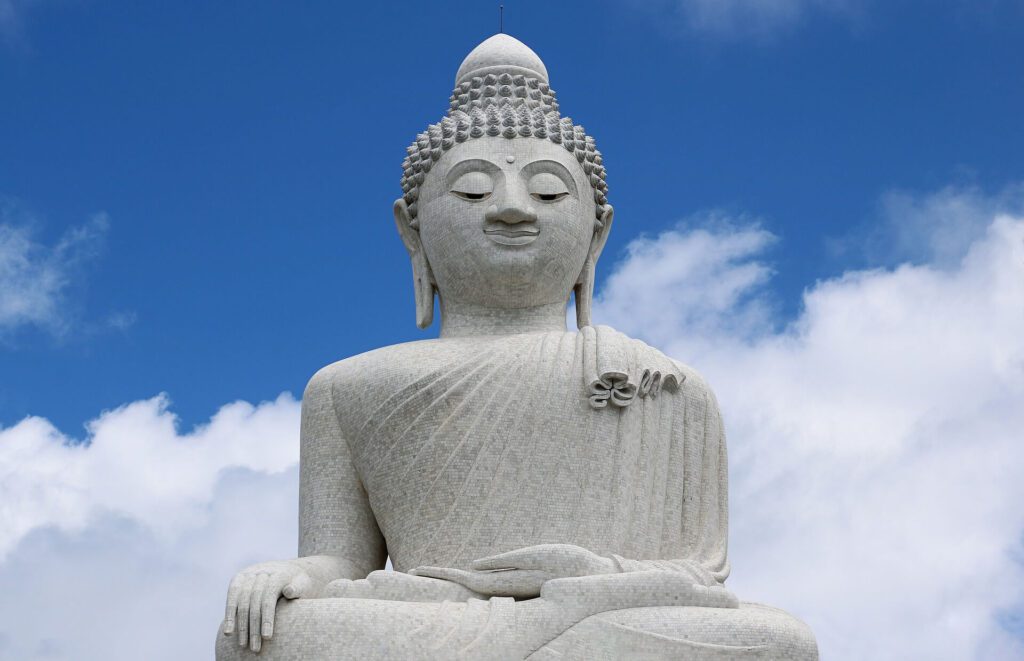 Scale Nakkerd Hills to Marvel at Big Buddha
One of Phuket's most famous landmarks is also one of its biggest. Big Buddha — a concrete-marble statue — stands 45 metres tall.
And this enormous statue of Buddha sits majestically on a hilltop, nestled between Kata and Chalong, making it visible from near and far.
This location also provides spectacular, 360-degree views of the island. So while you come for Big Buddha, you get the added benefit of seeing Phuket from a new perspective.
As a religious site, and one of the most revered places on the island, you should dress conservatively here.
We included a trip to Big Buddha as one of the most unique things to do in Phuket. Read the blog and find more travel inspiration for your itinerary.
Get Closer to Buddhism at Wat Chalong
There are 29 Buddhist temples in Phuket, each with its own unique story to tell.
But Wat Chalong (formerly Wat Chaiyathararam) is the most important and revered. As such, it's also one of the best things to do in Phuket for culture lovers.
This is the perfect place to learn more about the Buddhist faith and to witness locals praying and paying their respects.
The building itself also has an ornate architectural style, complete with beautiful wall paintings.
You can find Wat Chalong in the Chalong Subdistrict, Mueang Phuket District.
Read our list of 5 Must-See Temples in Phuket for more temple recommendations.
Pay Homage to Bravery at Heroine's Monument
Located on Highway 402 between Phuket Town and Phuket International Airport, Heroine's Monument (Thao Thep Kasattri and Thao Sri Sunthon Monument) symbolises outstanding bravery.
The monument consists of statues of two Thai women, Thao Thep Kasattri and Thao Sri Sunthon.
Together, they led a local defence against the Myanmar army. Their brave fight lasted for five weeks as they waited for help from the mainland.
Having successfully defended the island, the heroines were awarded the royally bestowed title of "Thao".
Every year between March 13th and 15th, a celebration takes place at the monument to commemorate Thao Thep Kasattri and Thao Sri Sunthon.
Do you want some adventure alongside your culture? Check out some of the best adventure activities to do in Phuket.
Watch Siam Niramit — One of the World's Largest Stage Productions!
For a fun-filled introduction to Thailand's rich cultural heritage, watch the dazzling stage production Siam Niramit.
The show takes its audience on a journey to the country's colourful past. Indeed, this is the time when Thailand was known as Siam.
On this narrative adventure, expect to be wowed by incredible stage performances and special effects.
The venue itself is a 2,000-seat theatre and includes a traditional Thai village. Visitors can explore the life and customs of bygone times.
In addition to witnessing one of the world's largest stage productions, you can also enjoy pre-show entertainment in the form of traditional music and dance performances, fountain shows, and Thai boxing.
Top Off Your Trip with Our Phuket Elephant Experiences!
Did you know that the elephant is the national animal of Thailand? As such, it's a key feature of this amazing country's culture.
Our ethical elephant activities in Phuket not only provide a great way for culture lovers to connect with nature and wildlife, but also Thailand itself. 
If you have any questions for our team before booking a visit, please feel free to get in touch.