Looking for things to do in Phuket with the whole family? Whatever ages your kids might be, there is something for everyone in Phuket. With this much natural beauty plus a well-established tourism sector, you'll be able to keep the kids entertained and happy no matter the weather.
As local travel experts based here in Phuket, we like to help folks plan their trips to our part of the world. We run the Phuket Elephant Nature Reserve, where you can observe and learn about our rescued elephants in an ethical, responsible way.
Visiting an elephant sanctuary is definitely one of the best things to do in Phuket with kids, so check out our specific recommendations in that section below!
We hope this list helps you plan your trip…and we hope to see you soon in Phuket!
Best Things to Do with Kids in Phuket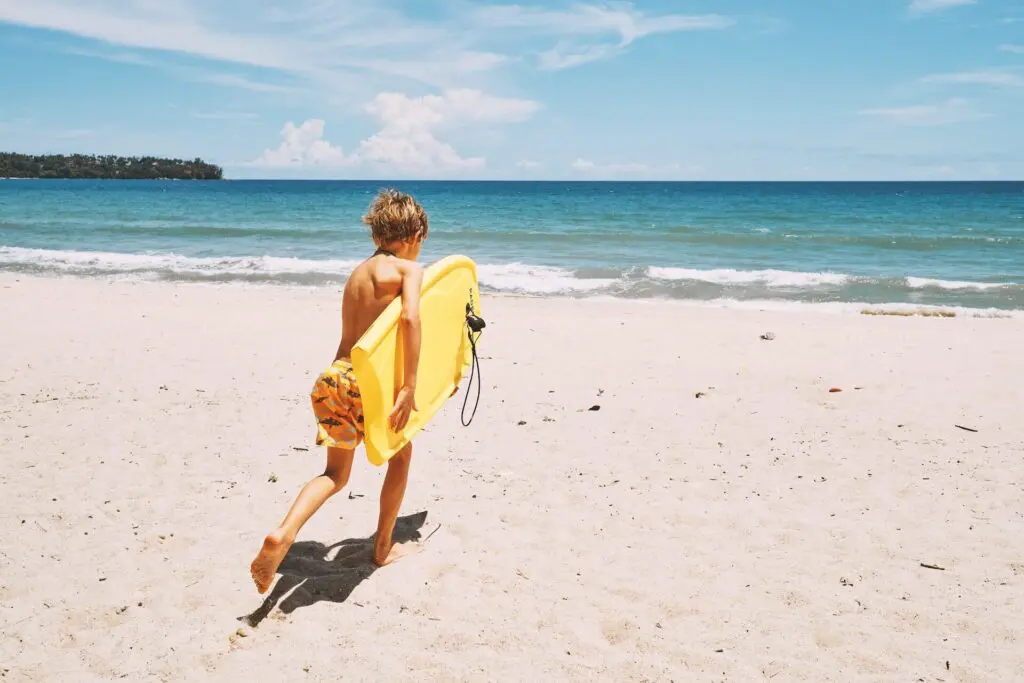 Go to the Beach
Of course one of the best things to do with kids in Phuket is to enjoy our variety of gorgeous beaches. These stretches of sand offer a perfect natural playground for little ones to dig, build sand castles, splash in the calm water, and bask in the sun.
Check out Bangtao Beach for a fantastic family-friendly option, or head to Layan Beach for a quieter scene. Surin Beach is another one of our local favourites.
Try Snorkelling or Scuba Diving
If your kids are really little, then the beach will keep them occupied enough. But as they get a bit older and more adventurous, grab a mask, snorkel, and fins and they'll enjoy the marvellous underwater views from the surface. Snorkelling is always one of the best things to do in Phuket!
When they get even older, they can finally try scuba diving. Kids as young as 8 can test it out, while kids must be at least 10 years old to start the certification courses. Blowing bubbles at the surface is one thing, but blowing bubbles while surrounded by colourful fish is sure to delight them!
Explore Phuket Old Town
Leave the sand behind for a few hours and teach the kids some local history by visiting Phuket Old Town. Walk along Thalang Road and admire the interesting architecture throughout Old Town. There are various international influences reflected in the Sino-Portuguese architecture, stemming from Phuket being a hub for the tin trade.
There are many mansions in this part of Phuket and the colourful homes and businesses throughout Old Phuket Town will surely mesmerise kids and adults alike!
Take Short Hikes to Waterfalls
Phuket boasts a varied landscape where you can enjoy the sea and sand as well as jungle-covered hills perfect for hiking and seeing waterfalls.
Don't worry, you don't need to take a big family trek to enjoy these pretty views!
The walk to Bang Pae Waterfall is only about 15 minutes and kids can even wade in the pool at the bottom of the falls. It's located by the Gibbon Rehabilitation Project.
Alternatively, head to the delightful Kathu Waterfall, where you can see the first falls quite easily and then ascend a staircase to see the upper falls. There are hiking trails beyond that, but no need to continue with little ones.
Visit an Ethical Elephant Sanctuary
Here at Phuket Elephant Nature Reserve, we have tried to be the change we want to see in the world.
This is why we are proud to offer a range of elephant activities and experiences that you won't regret.
Visitors absolutely cannot ride our elephants. And we don't allow physical interactions either.
We rescued our elephants from situations of cruelty and neglect. And now that they're in a safe and caring environment, they can behave as nature intended.
This means that when you visit, you will get a truly authentic experience with a completely clear conscience.
Check out our guide to our ethical elephant sanctuary in Phuket to learn more.
Our guests love taking jungle treks with the elephants, walking beside them as companions and with respect. It's a really family-friendly thing to do!
Want to teach your kids about great conservation work? We also have an on-site Elephant Dung Recycling Centre to convert dung into paper and biogas for cooking. We love talking about it with kids!
We'd love to have you and your family join us on one of our Phuket elephant activities. But whether you visit us or not, please don't hesitate to contact us to ask questions about our or other sanctuaries' ethics and policies. We are first and foremost concerned with the safety of elephants all across Phuket.
Play a Round of Mini-Golf or Football Golf!
Dino Park at Kata Beach is one of the most popular things to do for families in Phuket. Play a round of miniature golf, complete with dinosaur burgers at the Flinstones-esque restaurant after the game.
If your family wants to try something different, go play Football Crazy Golf instead! Independently run and not overrun with tourists, you can compete for the best score on this hybrid football-mini-golf course. Just bring some insect repellent with you!
Marvel at the Phuket AR Trickeye Museum
The AR (Augmented Reality) Trickeye Museum is a super fun thing to do for families in Phuket! Take tons of photos with 3D paintings and optical illusions to wow your friends and family back home.
Your travels will seem even more adventurous with dinosaurs and molten lava…
Gawk at Baan Teelanka (the Upside-Down House)
Definitely one of the most popular things to do with kids in Phuket is to experience the Upside-Down House or Baan Teelanka. The entire house is upside-down, from the tables and chairs to the tuk-tuk!
You'll get fabulous family photos as you enjoy a fun attraction that can make us all consider things from a different perspective. Kids of all ages enjoy this spot – and adults, too!
See the Big Buddha Statue
As perhaps the most prominent attraction in Phuket, going to the Big Buddha Phuket is certainly one of the best things to do with kids. Enjoy impressive views from this location and get a true feel for its 45-metre height as you stand at its base.
This is a great spot to watch the sunset if you want to time your visit for the end of the day!
Visit the Ban Chang Observation Deck Restaurant
Located inside the Phuket Elephant Nature Reserve, the Ban Chang Restaurant (meaning elephant house or shelter) is a great place to spend a couple of hours with the kids. We have an awesome kids' zone with a trampoline, swings, seesaw, lego, games, puzzles, and a lot more activities that are sure to excite the kids. And of course, you can also meet & feed the beautiful rescued elephants or enjoy our shorter 90min Elephant Care Adventure Program. Say hello to the 17 ducks in the big pond, play with the 3 friendly dogs, or chase 1 of the 20-something chickens around the lawn!
Play at ALL the Parks!
Kids are kids all around the world, so rest assured that there will be parks and play areas for your kids to enjoy in Phuket!
Blue Tree Phuket is a popular complex with waterslides, a massive water lagoon, rock climbing walls, splash pools for the little ones, and more. Lifeguards are always on duty so parents can feel at ease.
For older kids, Surf House Phuket lets everyone try surfing in a pool environment instead of the open ocean. It's right by Patong Beach so you can combine the sand and sea with some surfing that doesn't rely on good waves or weather!
Rawai Park offers various play areas that suit kids of different ages, making it ideal an ideal thing for families to do in Phuket.
Kidzoona Phuket is an indoor play area near the Tesco Lotus, so it's perfect if you end up with poor weather and the kids need to burn off some energy!
Finally, Andamanda Phuket is a large new waterpark with multiple slides, games, and food and drink available. Everything is paid for via an RFID wristband, which makes it an easy day for all.
We hope this guide to the best things to do with kids in Phuket has been helpful as you plan your trip! We also hope to see you at Phuket Elephant Nature Reserve so we can teach the next generation about ethical elephant activities and vital conservation efforts.
After all, the work we do is for them to enjoy! Feel free to get in touch with us if you have any questions at all.