Our home of Phuket is a true tropical paradise rich in history, culture, and spectacular landscapes.
As such, there are many amazing sights to see during your trip!
Of course, our own Phuket elephant activities offer the perfect opportunity to see and interact with majestic Asian elephants in an ethical, responsible way.
But we have plenty more recommendations for must-see things in Phuket that will make your time here unforgettable.
Keep scrolling to find some of our favourite Phuket sights. And if you have any queries about our Phuket elephant experiences in the meantime, please get in touch.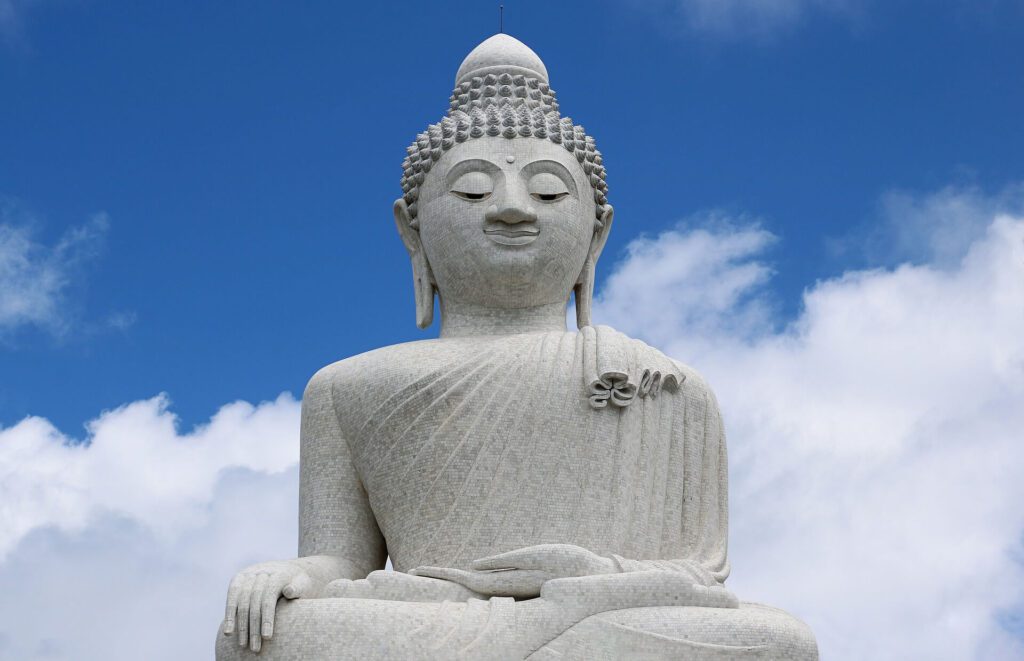 Stand in the Shadow of Big Buddha!
Sitting atop Nakkered Hill, Big Buddha is, without a doubt, one of Phuket's most iconic landmarks.
This colossal marble statue stands an impressive 45 meters tall, overlooking the island from its lofty perch.
And as impressive as the statue is on its own, you can also enjoy breathtaking panoramic views of Phuket from this hilltop.
Take a moment to soak in the serene atmosphere, learn about Buddhist culture, and marvel at the intricate designs and architecture of the temple complex surrounding the statue.
Find even more inspiration for your trip with our previous guide What Should I Do with a Week in Phuket?
Get Your Island-Hopping Fix in the Phi Phi Islands
Of course, Phuket is Thailand's best and most beautiful island! But what is a trip to the Land of Smiles without some island hopping?
From Phuket, you can venture out to the world-famous Phi Phi Islands on a boat tour.
Phi Phi Don and Phi Phi Leh are the two main islands that make up this stunning archipelago surrounded by crystal-clear turquoise waters.
And with pristine, white sand beaches and towering limestone cliffs too, the Phi Phi Islands bring dreams of tropical paradise to life.
Don't miss the chance to visit Maya Bay, made famous by the movie The Beach.
Snorkelling, diving, and exploring the vibrant marine life are among the many activities that make a trip to the Phi Phi Islands an unforgettable experience.
Find even more helpful local tips and insights in our guide How to Plan the Perfect Trip to Phuket: Thailand's Island Gem.
Take a Tour of the Jaw-Dropping Phang Nga Bay
Prepare to be awe-struck by the breathtaking beauty of Phang Nga Bay.
This spectacular bay is known for its dramatic limestone karsts rising majestically from the emerald-green water.
A must-see attraction here is James Bond Island (Khao Phing Kan), featured in the movie The Man with the Golden Gun.
This spot is the now world-famous, unusual rock formation standing alone in the water, as pictured above.
Explore the stunning caves and lagoons of the area by kayak, take a boat trip to nearby islands, and immerse yourself in the natural splendour of this picturesque paradise.
Are you looking for even more adventure? We think you'll love our recommendations for the best adventure activities to do in Phuket.
Connect with Rescued Elephants at the Phuket Elephant Nature Reserve
At the Phuket Elephant Nature Reserve, you can have a meaningful and ethical encounter with the majestic elephants that we have rescued from cruelty and exploitation.
Seeing an elephant in person is a truly one-of-a-kind experience.
We are dedicated to providing a safe and caring environment for our elephants, where you can learn about their natural behaviours, feed them, and observe as they roam around our reserve and bathe and play in the mud and natural ponds.
Our Half-Day Elephant Adventure in Phuket, like all our activities and experiences, is centred on care and love, not entertainment.
Our sanctuary promotes responsible tourism and ensures the well-being of our gentle giants, all while offering our visitors an unforgettable experience.
Learn more about ethical elephant activities by reading our previous guide Should I Ride Elephants in Thailand?
Admire the Stunning Sights from Kata Noi Viewpoint
For breathtaking panoramic views of Kata Noi, Kata, and Karon beaches, make your way to the Kata Noi Viewpoint.
Making the journey to this lofty vantage point provides a sweeping view across golden sands, azure waters, and lush forest surroundings.
Needless to say, this is also a popular spot for taking stunning photos!
Take a moment to relax and appreciate the beauty of nature before heading to one of the nearby cafes to savour a refreshing drink while enjoying the mesmerizing vistas.
Are you coming to Phuket with children? Get a head start on planning family-friendly things to do with kids in Phuket.
Start Planning Your Ethical Elephant Activities in Phuket!
There are many more must-see things in Phuket, but we can't cover them all in a single blog.
The only way to discover them is to come and visit!
In the meantime, find out which of our elephant activities in Phuket is the best fit for you.
We're always here to answer any questions you may have, so please don't hesitate to get in touch if you need any extra information.