When planning a trip to Phuket, it's easy to get swept up in all the fun and exciting activities that will fill your days. From beach and island hopping to ethical elephant experiences in Phuket, there's no shortage of incredible things to see and do here.
However, your choice of accommodation will have a huge influence on how much you enjoy your holiday. Whether you're escaping the afternoon heat or looking to relax after a day of adventures, there's nothing better than having a comfortable place to return to.
At the Phuket Elephant Nature Reserve, we're experts in unforgettable elephant experiences in Phuket. And as a local company with strong roots on the island, we're perfectly placed to offer advice on how to make the most of your time here.
That's why we're using this blog to focus on choosing your home away from home!
If you have any questions for us, please feel free to get in touch.
Our Recommendations on Where to Stay in Phuket
Phuket's west coast is home to all manner of accommodation types, from hostels to hotels to luxury resorts. Below, we look at the places that we recommend to visitors to Bang Tao Beach and the surrounding area.
Diamond Resort Phuket
At Diamond Resort Phuket, you can experience the peaceful side of the place we call home. Bang Tao Beach is only a short 10-minute walk away. The hotel also operates a daily shuttle service to the beach which runs frequently.
Diamond Resort is also within easy reach of other local hotspots such as Boat Avenue Phuket, Laguna Phuket, and Carpe Diem Beach Club.
Best of all, Diamond Resort is an approximate 10 to 15-minute drive from the Phuket Elephant Nature Reserve. This means one of the best adventure activities to do in Phuket is on your doorstep!
Combining coastal and elegant living styles, Diamond Resort has self-catering, fully furnished suites with free internet access for those all-important uploads, kitchen facilities to practice your Thai cooking, and private balconies for relaxing.
Guests can also make use of the incredible on-site restaurant, large swimming pool, and fitness room.
Sunwing Bang Tao Beach
This family resort is located on the white sands of Bang Tao Beach. With its own premium restaurants, fun entertainment programs, and six individually designed outdoor swimming pools, Sunwing Bang Tao Beach ticks every box for couples and families.
And the entertainment on offer spans all age ranges too. There's plenty to keep kids of any age engaged, but there's just as much focus on parents and grandparents, be it a moment of peace and relaxation or something playful and fun.
There's so much to do in and around Sunwing Bang Tao Beach — all you have to do is decide what kind of day you want!
With the Phuket Elephant Nature Reserve less than 15 minutes away by car, many guests at Sunwing Bang Tao Beach choose to spend their days with us!
If you're an environmentally-conscious traveller, read our guide to Phuket's most ethical elephant sanctuary.
For added peace of mind, this resort has achieved Travelife Gold certification thanks to its support of sustainable tourism.
Best Western Premier Bang Tao Beach Resort
Another resort with a stunning beachside location (and Travelife Gold certification), this Best Western Premier also attracts large numbers of couples and families. Located at the southern end of Bang Tao Beach, this resort is set among tropical gardens, making it the perfect place to relax and play in paradise.
As a full-service resort, there are plenty of activities and facilities here to keep you occupied during your stay in Phuket. And with the white sand and azure waters of Bang Tao Bay only a few steps away, adventures outside the hotel are just as easy to find.
If you are travelling with children, there are many family-friendly things to do with kids in Phuket!
Best Western Premier Bang Tao Beach has 2 swimming pools, a kids' pool, delicious in-house dining options, and a swim-up pool bar. There's also a fitness room to help maintain your energy levels.
This resort is a little over 15 minutes drive from the Phuket Elephant Nature Reserve, making it a popular base for our visitors.
Outrigger Surin Beach Resort
Located on Surin Beach, to the south of Bang Tao Beach, this resort offers elegant, boutique living within yards of beautiful white sands and welcoming turquoise waters.
The decor is a stylish mix of modern and traditional Asian design. You can find luxurious silk fabrics and vibrant handicrafts throughout the property. All this contributes to the overall sense of tranquillity in a genuine tropical seaside sanctuary.
Outrigger Surin Beach Resort has a surf-inspired restaurant serving delicious food and drinks. And you can head up to the loft bar to watch Phuket's famous sunsets.
The hotel itself has two swimming pools and is within walking distance of the stunning Surin Beach, one of Phuket's best and most famous beaches. Nearby, you can walk to lots of local shops and restaurants, convenience stores, motorcycle rental shops, massage shops, and more.
With the Phuket Elephant Nature Reserve around 20 minutes away by car, the Outrigger Surin Beach Resort provides a great home away from home while you explore our island.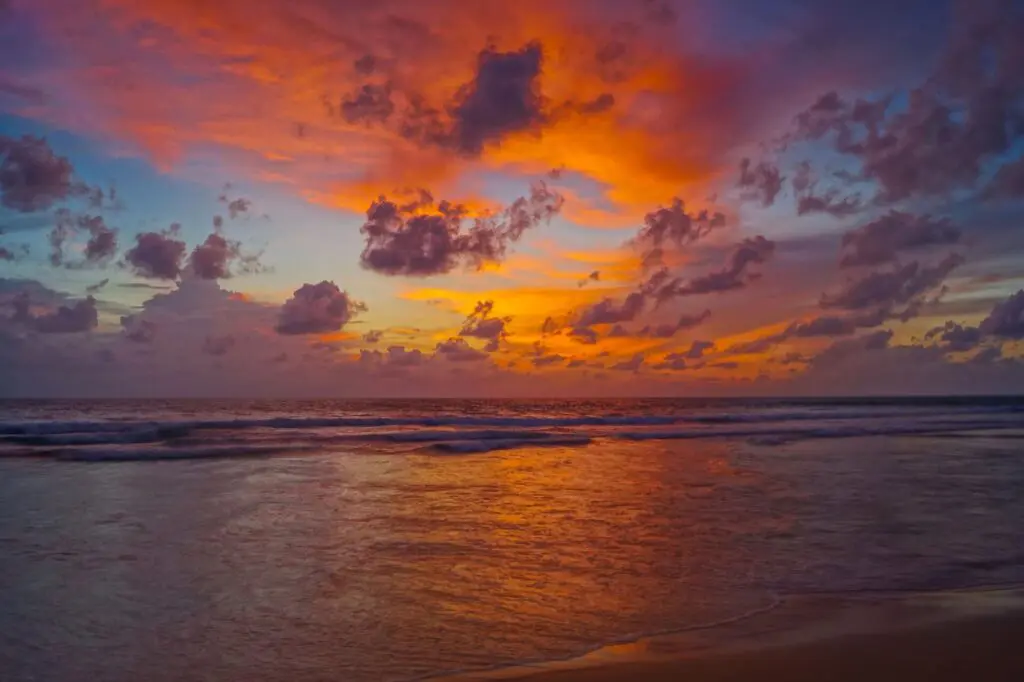 Twin Palms Phuket Resort
Another gorgeous resort located near Surin Beach, Twin Palms Phuket Resort is a relaxing, secluded tropical oasis. This independent boutique hotel has a stylish, contemporary design with architecture focusing on clean lines and harmony with nature.
The result is luxury accommodation set in a magical, water garden landscape.
Visitors can find exclusive restaurants, bars, beach clubs, and various rooms, suites, and penthouses around a central lagoon pool. All accommodation options are surrounded by palm trees and have a private terrace with a view of the pool.
This Eden-esque spot is less than 20 minutes away from the Phuket Elephant Nature Reserve by car, so we regularly welcome visitors who are also guests at Twin Palms.
Stay on Phuket's West Coast for a Peaceful, Authentic Experience
The Bang Tao Bay, Layan, and Surin Beach regions on Phuket's west coast offer a genuine slice of paradise. White sand beaches, the sparkling waters of the Andaman Sea, swaying palm trees — this area offers everything you could want from a holiday in Phuket.
At the Phuket Elephant Nature Reserve, we play our part in creating authentic, exhilarating adventures for visitors from around the world. Our elephant activities in Phuket are highlights of many itineraries in this part of Thailand.
All our Phuket elephant experiences are ethical and sustainable. The health and well-being of our rescued animals are, and always will be, our absolute priority.
If you have any questions before you visit us, please don't hesitate to get in touch.