Looking for some awesome adventure activities to do in Phuket while on vacation? Thailand is famous for many outdoor activities, and you'll actually find almost ALL of them right here in Phuket. So whether you're doing it for the 'gram or you're taking your kids on the adventure of the year, let's get out there and try something new!
As locals who live in and love Phuket, helping visitors see the best of this area is something we love to do. From enjoying local flavours to supporting conservation efforts, it's our aim at the Phuket Elephant Nature Reserve to ensure we're doing our best for the community and for sustainability. 
If you're ready for some adventure, we're ready to show you the best of Phuket!
The Best Adventures in Phuket
1. Hike with Elephants in the Jungle
First and foremost, you have to join us at the Phuket Elephant Nature Reserve to enjoy an amazing hike in the jungle with our rescued elephants. Join us for a walk through the lush hills and enjoy being accompanied by our gentle giants. What an experience! It's really a truly awesome one being accompanied by a 4,000kg animal as you gently stroll through the beautiful jungle!
We never, ever let anyone ride our elephants as it's an incredibly harmful practice. To ensure our elephants can enjoy a normal and natural life, we also do not allow guests to touch our animals either.
But if you value special experiences with animals and you encourage conservation and ethical tourism, then you'll love joining us for this fun adventure activity in Phuket! Don't hesitate to contact us if you have any questions at all about our ethics and options for interacting with the elephants.
Check out our full range of elephant tours in Phuket to find out what you can expect on your visit.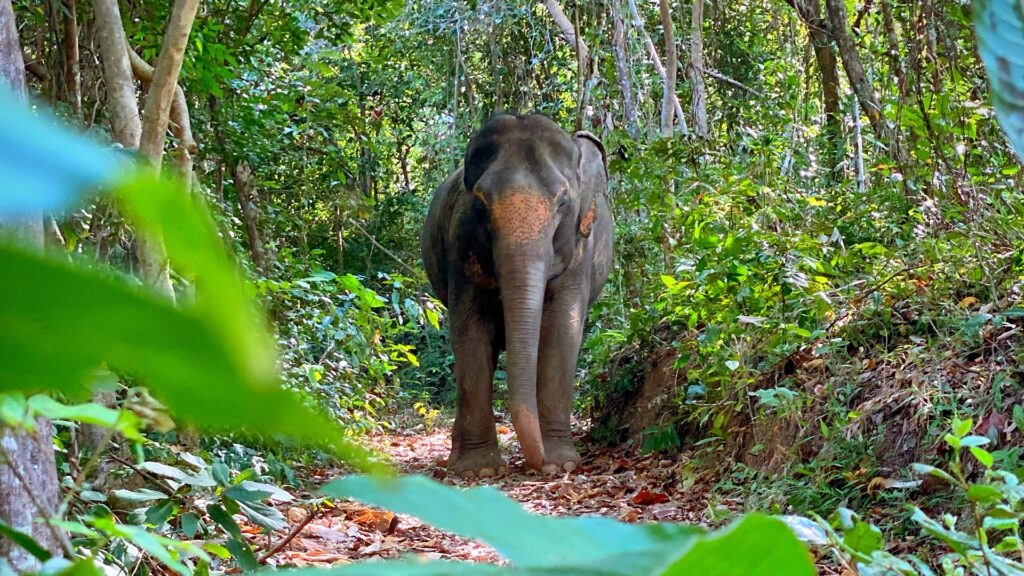 2. Ride an ATV Through the Jungle
Hit the jungle trails with your own ATV and experience a totally different side of Phuket! While the beaches draw most visitors into the sun each day, changing things up with a jungle-based heart-pumping adventure makes for a much more interesting holiday.
There are tours and rentals available across Phuket, so you shouldn't have trouble getting set up if you're ready to traverse the jungle.
3. Zipline Through the Treetops
Maybe you'd prefer to soar through the jungle than to drive through it? If so, you have to head to one of Phuket's zipline adventures!
Test your nerves with sky-high platforms and take off zipping across the treetops for epic views and an adrenaline rush.
4. Try Muay Thai Boxing
Phuket is known as a hub for Muay Thai boxing, so if you're truly up for an adventure activity then you have to try a class to get a feel for this world-famous sport.
If you'd prefer to watch instead, then go catch a match at the largest stadium in southern Thailand: Patong Boxing Stadium.
5. Explore the Depths by Scuba Diving
If you're a certified diver, you'll love the stunning variety of underwater landscapes and life around Phuket. Explore the granite outcrops of Lam Ru National Park (the Similan Islands) or marvel at the fringing coral reefs off-shore, especially if you're into macro life.
You can expect to see blacktip reef sharks year-round, while whale sharks and manta rays can sometimes be seen from November to February.
If you're not a certified scuba diver yet, there are plenty of dive schools in Phuket to learn!
6. Go Snorkelling
If you'd prefer to stay closer to the surface, try snorkelling instead. Gear can be rented from a variety of spots along the beaches or through your accommodations. Depending on where you are in Phuket, you should ask for the safest and best locations to head out from shore.
If you'd prefer to go farther afield, some of the best snorkelling in Phuket can be done at Koh Phi Phi. Take a boat tour and enjoy a day of stunning natural beauty!
7. Try Whitewater Rafting
From Phuket, you can join a local tour company to go whitewater rafting in the jungle just north of the island. From Class I rapids up to Class III, you'll love the rush of adrenaline as you bump and bounce your way through wild waters!
8. Head Out Kayaking or Canoeing
Prefer a slightly more tame water-based experience? Then grab a paddle and power your own way via kayak or canoe. There are plenty of places where you can rent equipment or go for a guided tour to learn more about the local flora and fauna in and around Phuket.
9. Have a Go at Windsurfing
The best winds run from June through August, making windsurfing in Phuket a popular adventure activity. With shallow waters along the southern coast, this area is ideal for beginners who want to learn and try something new. If you're a more experienced windsurfer, the northwestern part of Phuket offers stronger currents and fiercer winds to enjoy.
Lots of shops offer rentals and lessons around the island, so you're sure to find a convenient spot based on where you're staying.
10. Try Kitesurfing
Instead of windsurfing, you can try kitesurfing for a little something different! The same seasonality applies, with June through August being ideal for the best winds. Shallow, calm waters in the south are better for beginners while the northern part of Phuket is where the more experienced adventurers go.
11. Or Some Regular Surfing!
If kitesurfing and windsurfing don't appeal to you, then grab a board for some good old-fashioned surfing instead.
Kata & Kalim Beach are perhaps the most popular surf spots in Phuket, with the best season running from May to October. While this isn't the best season for beachgoers, those who want to catch a wave will also get to enjoy lower prices and less busy beaches as it's the off-season.
12. Take a Bike Tour
Back on land, grab two wheels and enjoy a jaunt through the jungle trails on a Phuket bike tour. After the slower pace of our hike with the rescued elephants, you might want more of an adrenaline rush backed by some mountain biking speed.
There are various operators offering tours, so you'll have options based on where you're staying and the type of tour you want to do.
13. Go Chasing Waterfalls
The terrain in Phuket varies widely, making it perfect for hiking, ziplining…and chasing waterfalls! From loud cascading falls to the more tranquil and tame, enjoying the lush jungle environment and coming upon a waterfall is a magical experience.
Seek out Bang Pae Waterfall where you can wade in the pool at the bottom, the quiet cascading Kathu Waterfall, or the delightful Tonsai Waterfall.
Are you ready to get out there and try some of these adventure activities in Phuket now? We hope so!
We'd love to have you join us for one of our Phuket elephant tours! If you have any questions at all about what we do or how you can get involved, please feel free to get in touch.