Are you more of a night owl than an early bird? If your holiday plans tend to take place after the sun sets, you'll be looking for tips on the best things to do in Phuket at night.
That's where we come in! At the Phuket Elephant Nature Reserve, we are lucky enough to call this incredible island home.
While we're leaders in ethical elephant activities in Phuket, we also use our local knowledge to help visitors get the most from their time here.
That's why we've put together this list of some of Phuket's best nocturnal activities.
If you have any questions about our elephant experiences in Phuket, please don't hesitate to get in touch.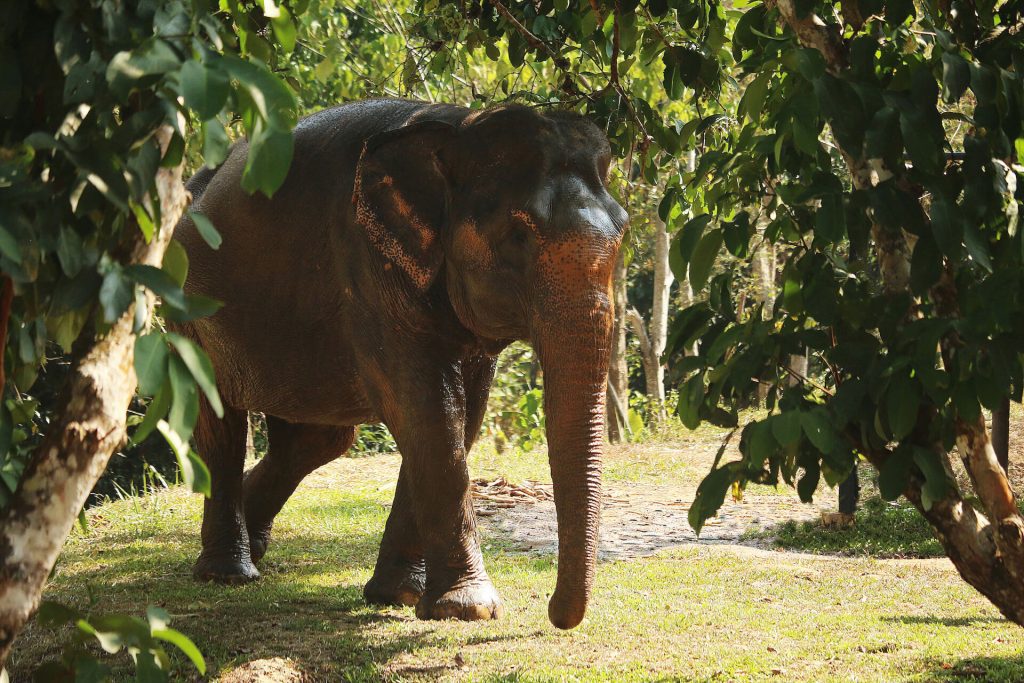 End Your Day (or Start the Night) at a Phuket Beach Club
There aren't many better combinations than tropical islands and beach clubs. Luckily, Phuket has its fair share of places to enjoy, including famous names like Carpe Diem, Catch, and Cafe del Mar.
The island's west coast is home to many of Phuket's best beach clubs, particularly the Bang Tao Beach area.
Whether you've been exploring or taking it easy during the day, it's always a pleasure to ease into the evening while lazing on a lounger with a cocktail in hand.
And as the night progresses, you can party with international DJs and other fun lovers.
Read our guide to the Top 5 Beach Clubs in Phuket to start planning your adventures.
Sip a Sunset Cocktail on a Rooftop Bar
The trend for rooftop bars is a global phenomenon, and it's no different here in Phuket.
However, there is a law here that states that any construction within 200m of a beach cannot exceed 12m in height.
This is why most rooftop bars on the island are a far cry from the vertigo-inducing towers some may picture.
Instead, these bars tend to sit perched up on picturesque hills, offering stunning panoramic views.
A selection of the better spots includes:
The Sundeck
Heaven Rooftop Restaurant
Vanilla Sky at Cape Sienna
Patong Sunset View
Kee Sky Lounge
Andaman Sky Lounge
Sunset Grill at Hyatt Regency
Check out our tips for 5 unique things to do in Phuket for even more holiday inspiration.
Head to Bangla Road for a Big Night Out
While you may find this hotspot referred to as Bangla Walking Street, most people in Phuket still call it Bangla Road.
To put it simply, this is the epicentre of Phuket's nightlife.
If you're looking for huge international nightclubs, live music bands, bars of every description, and even tattoo parlours, this is the place!
While not to everyone's taste, there's no doubting the fun, colourful energy present here for anyone who wants to extend their night through to the next morning.
Phuket Night Markets are Ideal for Shopping and Eating
A trip to one of our island's many night markets is a truly authentic Phuket experience. While each market has its own charms, they are always a feast for the senses.
One of the main reasons why night markets are so beloved by locals and visitors alike is that they aren't only for shopping — they're also a great place to find affordable, delicious Thai street food.
In some cases, you can even sit back and enjoy live entertainment in a market too, from live music to talent shows.
Phuket night markets aren't just places to pick up a few things you need. They're fun and fascinating spots to spend an entire evening.
To help narrow down your options, read our recommendations for the 7 best night markets in Phuket.
Get Your Live Music Fix!
There are numerous live music bars around Phuket where local bands play original music of impressive quality.
Live music bars have always been a key part of Phuket's nightlife. However, many years ago, you were much more likely to hear cover versions of famous songs — and not necessarily played well!
But there has been a musical evolution over time.
Now, it's typical to go to one of these bars and watch a band play excellent songs with dazzling light and sound systems.
If you miss live music while on your travels, you can get a great show for the price of a beer or a coke.
Experience a Thrilling Night of Muay Thai Boxing
As with the other suggestions on this list, watching Muay Thai fights won't be for everyone.
Of course, as in "Thai boxing" and martial art, there's a certain amount of violence involved. You may also see some blood.
However, Muay Thai is Thailand's national sport and it's an undeniable part of Phuket's nightlife. You only need to take a look at the amount of Muay Thai training camps on the island to understand its popularity.
The two best-known places to take in Muay Thai are the Bangla Boxing Stadium and Patong Boxing Stadium.
Please note, both are in Patong. The Bangla Boxing Stadium moved from Bangla to Patong but kept its name.
If you're looking for even more thrills on the island, read our 13 best adventure activities to do in Phuket.
Our Elephant Experiences are a Quintessential Phuket Experience
No matter how your nights on the island pan out, there are just as many memories to be made in the daytime.
Our ethical elephant activities in Phuket allow you to observe and learn more about Thailand's national animal.
You can be sure that the safety, health, and well-being of our rescued animals remain the number one priority.
For more information about our Phuket elephant experiences, please feel free to contact us.