Many things make up our way of life here in Phuket, and night markets are certainly one of them.
Modern shops and malls with air conditioning have sprung up over the island in recent years, but they can't beat the local night markets for charm and tradition.
The Phuket night market experience is a feast for the senses — and the mind! They're colourful, aromatic, fascinating, puzzling, confusing, and just a bit messy!
And this is exactly why locals and visitors alike love them.
At the Phuket Elephant Nature Reserve, we are leaders for another of the island's quintessential experiences — ethical elephant activities in Phuket.
We use our years of local knowledge to help people make the most of their time in Phuket. That's why we've provided this guide to the island's best night markets.
If you have any questions about our elephant experiences in Phuket, please feel free to get in touch. For our night market recommendations, please keep scrolling down.
Dive into Old Phuket Town's Walking Street Market
Open from 4 pm to 10 pm every Sunday, this market is as colourful and charming as the historic neighbourhood it calls home.
Phuket Walking Street Market takes place on Thalang Road in the Old Town, so it's surrounded by some of the island's best colonial architecture.
As such, a visit here allows you to explore Phuket's history as much as the cafes and stalls.
In addition to the clothes, souvenirs, and food on sale, you can also enjoy street shows and live music.
It's no surprise that this market was an immediate success upon opening. This historical part of town was calling out for a creative and cultural streak, and the Phuket Walking Street Market provided it.
If you're looking for advice on what to eat when in our island's night markets, read our Guide to the Best Street Food in Phuket.
Discover the Trendy, Bohemian Vibes of Chillva Market
Chillva Market stretches along Yaowarat Road in Phuket Town and is open Monday to Saturday, 5 pm to 11 pm.
This night market has a fresh, young, and energetic atmosphere. It even has permanent shops in old shipping containers, a must-have feature in any trendy night market!
Alongside these containers, you can find small vendors in an open-air section. The market as a whole offers plenty of craft items, clothes, and tasty food.
And there's frequent entertainment here too, with local acts, talent shows, and live music performances.
Chillva Night Market is busy and popular, especially with younger crowds. After one visit, it's easy to see why.
For the days when you want a different shopping experience, check out our tips for the best shopping destinations in Phuket.
Get Lost in the Sprawling Phuket Weekend Market (Naka Market)
As you've probably already guessed from the name, the Phuket Weekend Market is open on Saturday and Sunday, from 4 pm to 10 pm.
It's important to note that this night market goes by numerous names. It's also known as the Naka Market, owing to its location opposite Naka Temple on the Wirat Hong Yok Road.
The locals call it 'Talad Tairod', which translates to 'car boot sale'. You may also hear it referred to as Phuket Chatuchak, a reference to Bangkok's huge weekend market.
However you know it, one thing is true — the Phuket Weekend Night Market is our island's largest!
It's an enormous, sprawling bazaar packed with second-hand goods, souvenirs, clothing, curios, and delicious local food.
When you visit this bustling market, we recommend dedicating a few hours to exploring every stall, shop, and path. With so much on offer, you'll find the perfect souvenir for you or someone back home.
Support Local Creatives at the Phuket Indy Market
Located on Limelight Avenue, off Dibuk Road, Phuket Indy Market is open Wednesday to Friday, 4 pm to 10 pm.
This night market hosts various independent traders (hence the name!), so you won't find the typical stalls associated with other Phuket markets.
Instead, you can expect to find all manner of fashionable clothes, shoes, unique accessories, and handmade goods. There are also ample food, snack, and drink options to choose from.
The atmosphere here is quieter and more relaxed, despite the local artists performing live music on the stage.
This vibrant market is smaller in scale, popular with young locals, and offers a pleasant shopping experience.
After this one-of-a-kind shopping trip, why not explore our other recommendations for unique things to do in Phuket, Thailand?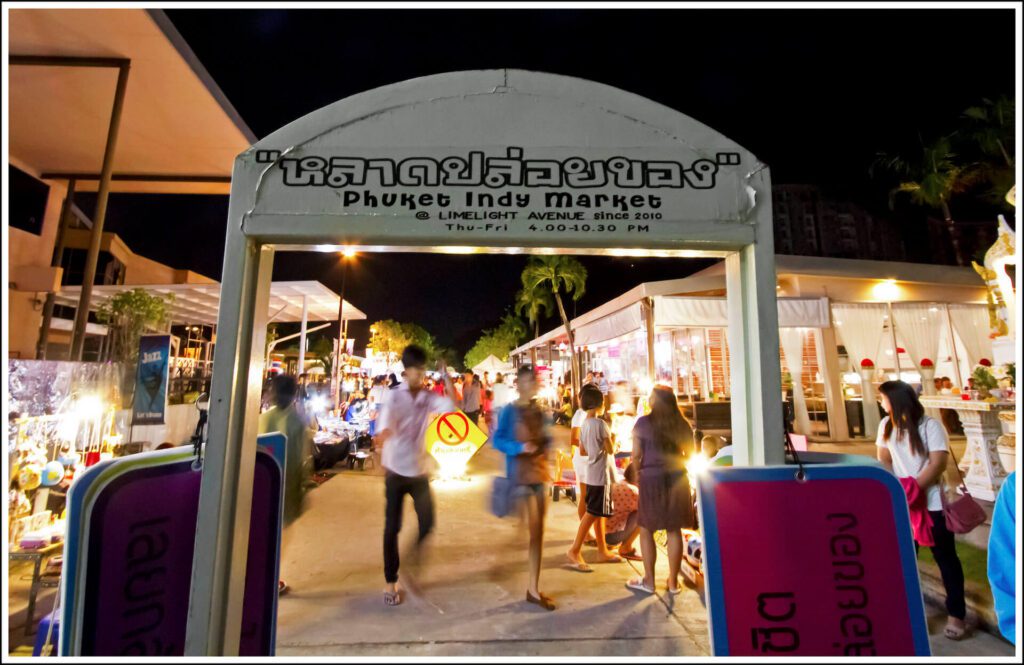 Sample the Amazing Food at Malin Plaza
A relatively new addition to Phuket's night market scene, Malin Plaza is in the south of the Patong Kathu district. It opens from 2 pm until midnight.
Malin Plaza is an unequivocal success, but this is because it focuses as much on food as it does on stalls and shops.
Essentially, people flock to night markets for a snack or meal as well as shopping, so a destination that excels at both will always be popular. And that's exactly what Malin Plaza does!
The food area in this market is large and caters to local and international tastes. The cuisine is good quality and not expensive, making it the perfect combination for anyone on a budget!
As for the goods on offer, you can find an array of miscellaneous products here, from typical souvenirs, clothes, and bags to spa products and IT accessories.
Treat Yourself to the Friday Night Fun Market at Boat Avenue
This smaller, yet vibrant market pops up every Friday night at Boat Avenue, near Phuket Laguna.
If you're looking for a fun activity in the Bang Tao Beach area, you can find everything you would expect from a night market in Thailand here, namely shopping, food, drinks, and an authentic slice of local life.
The Friday Night Fun Market has added even more life and energy to Boat Avenue. Lively and colourful, a trip here is a great way to round off a day of adventure, relaxation, or anything in between.
This market has a large selection of food options to enjoy, with plenty of bites on offer that you may never have seen or tried before — so don't be shy!
Blue Tree Phuket Wansao Market
This night market offers a great evening of entertainment for couples, families, and friends.
Food trucks, drinks, market stalls, live DJs, kids' activities, arts and crafts, an outdoor cinema, and even a Zumba class — the Wansao Market at Blue Tree Phuket is packed with amazing things to see, do, and try!
In addition to delicious snacks and sips, you can find fashion items, gifts, jewellery, and accessories.
Blue Tree Phuket is the island's first boutique community mall and an open-air amphitheatre. It is a truly excellent setting for a bustling night market.
Get the Full Phuket Experience with Our Elephant Activities!
There's no doubt that shopping and eating in night markets is part of the Phuket experience. But for a complete island adventure, check out our range of ethical elephant activities in Phuket.
If you have questions about anything you see, or you simply want to talk with a member of our team before booking, please don't hesitate to get in touch.
You can have complete peace of mind: our priority is, and always will be, the health, safety, and well-being of our rescued animals.