Located in Southwest Thailand, surrounded by the inviting turquoise waters of the Andaman Sea, Phuket is an island paradise that attracts people from all around the world.
Whether you're looking for relaxation, adventure, or immersion in a new culture, you can find it all in the place we call home.
This includes sustainable and ethical elephant activities in Phuket at the Phuket Elephant Nature Reserve!
We've used our local knowledge and expertise to put together this guide on how to spend a week in Phuket.
Naturally, there's no one-size-fits-all itinerary to suit every visitor.
Instead, we have provided you with all the information and inspiration you need to plan an adventure that suits you.
Keep scrolling down to find out more. And if you have any questions about our elephant experiences in Phuket, please feel free to get in touch.
Day One: Get Acquainted with Phuket's Best Temples
What better way to start your week in Phuket than by immersing yourself in the local culture?
There are numerous ways to do this, but visiting some of the island's most beautiful temples is the perfect slow-paced activity to start a holiday.
The stunning Wat Chalong and the enormous Big Buddha statue are two must-see spots.
The latter sits atop Nakkerd Hill, so you can take in breathtaking views of the island and its surroundings.
For a deeper dive into our beautiful temples, read our recommendations for the five must-see temples in Phuket.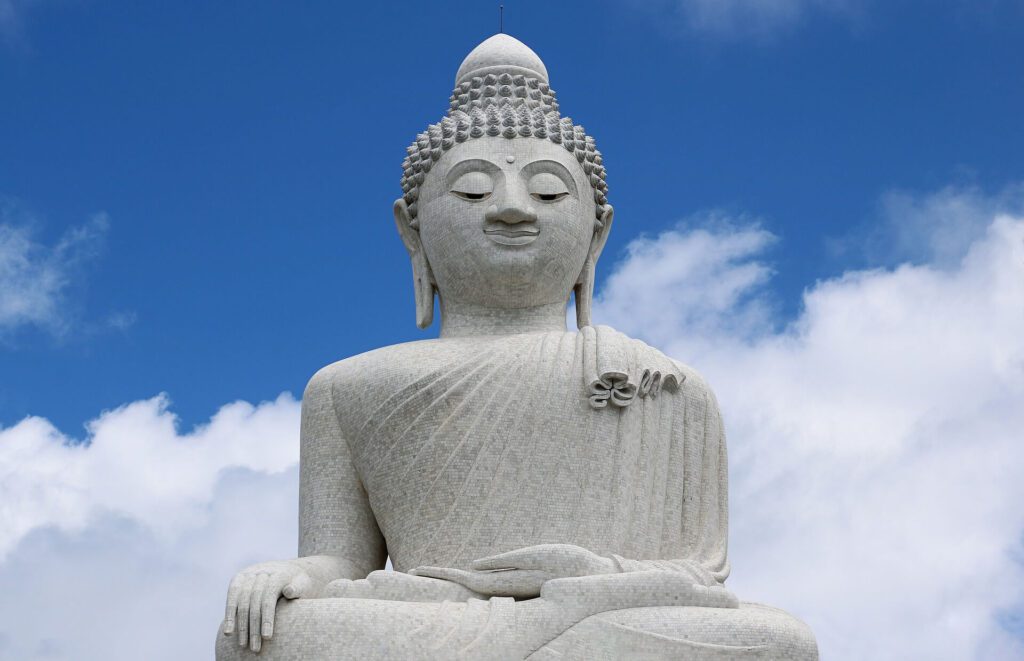 Day Two: Observe and Learn About Our Rescued Elephants
The Asian Elephant is the national symbol of Thailand, so no trip to our incredible country is complete without enjoying an ethical elephant experience.
And when you're in Phuket, you can count on the Phuket Elephant Nature Reserve for responsible, sustainable activities that prioritise the health and well-being of these majestic animals.
Our range of elephant activities in Phuket focuses on observing our rescued elephants in their natural habitat while outlining the importance of conservation efforts. 
Watching these playful, social animals enjoying life is a truly one-of-a-kind experience.
Day Three: Enjoy Phuket's Picturesque Beaches
Phuket is home to some of the most beautiful beaches in the world, so it's only fitting to spend a day, evening, or night soaking up the sun and the atmosphere.
When it comes to incredible beaches, you're spoilt for choice in Phuket. Just some of the options we recommend include:
Bangtao Beach
Banana Beach
Nai Thon Beach
Surin Beach
Kamala Beach
Mai Khao Beach
Karon Noi Beach
Ya Nui Beach
Each beach offers its own unique vibe and plenty of opportunities for swimming, sunbathing, and water sports.
And many of our amazing beaches are home to beach clubs that are ideal for kicking back, sipping on a refreshing cocktail, and enjoying the music and tropical atmosphere.
Are beach clubs a must for your itinerary? Check out our tips for the top five beach clubs in Phuket.
Day Four: Indulge in Some Retail Therapy
Around the midway point of your holiday, you may want to enjoy an easier day visiting Phuket's best shopping destinations.
With popular spots including Central Phuket, Central Phuket Floresta, and Boat Avenue Phuket, you won't be disappointed!
You can find a wide range of stores selling all kinds of local and imported goods, so you'll be able to buy everything from daily essentials to presents and souvenirs.
Day Five: Take a Boat Tour!
There's plenty to enjoy on land here in Phuket, but there are adventures at sea too!
Exploring the Andaman Sea and Phang Nga Bay is one of the most popular things to do in Phuket — and it's easy to see why!
This marine paradise is a spectacular sight, with limestone cliffs, small islands, incredible rock formations, mangrove forests, lagoons, caves, and coral reefs.
You can also visit the famous James Bond Island (as featured in The Man with the Golden Gun) and swim in crystal-clear waters.
Day Six: Visit a Bustling Night Market
After another day of adventure, you may start the next morning at a slow pace. This is ideal for another traditional Thai experience — visiting one of Phuket's night markets.
These markets are a feast for the senses! Aromas will flood your nose, your eyes will take in a kaleidoscope of colours.
Night markets are as confusing as they are fascinating, but this is exactly what makes them so appealing to locals and visitors alike.
You never know what you might find, so this is a perfect way to let go and see where the experience takes you.
What's more, night markets have many delicious street food options, so there aren't many better ways to get a true slice of authentic Thai life.
Plan your visit by reading our guide to the seven best night markets in Phuket.
Day Seven: Try Something New!
There's still so much more to see and do in Phuket, so why not try something new as your trip comes to a close?
Maybe take a Thai cooking class or walk the charming streets of Phuket Old Town?
You can head to the Upside Down House for some memorable photos or pamper yourself with a spa treatment.
For even more ideas, check out our suggestions for five unique things to do in Phuket.
Make Our Ethical Elephant Experiences Part of Your Phuket Adventure!
We hope this guide has answered your question "what should I do with a week in Phuket?"
If you want to put ethical elephant activities in Phuket at the heart of your holiday, look no further than the Phuket Elephant Nature Reserve!
For more information about any of our experiences, please don't hesitate to get in touch.