If you're anything like us, food plays a huge part in your trips to new (and familiar) destinations.
Exploring the local food scene is one of the best ways to connect with the places you visit — and it's a great way to add new recipes to your mealtime repertoire!
At The Phuket Elephant Nature Reserve, not only do we proudly provide ethical elephant activities in Phuket, but we also have an amazing restaurant called Ban Chang where you can dine whilst our elephants roam and bathe nearby.
And as local residents, we've got plenty of recommendations for the best Thai food places in Phuket! Keep scrolling down to read through our tips.
Of course, there is a huge range of restaurants here, so this is only an introduction. Our list covers local and high-end dining in no particular order of preference.
If you have any questions about our Phuket elephant experiences and activities in the meantime, please don't hesitate to get in touch.
Ban Chang Restaurant Phuket
100, Srisoonthorn Rd, Cherngtalay, Thalang District, Phuket 83110, Thailand
This amazing restaurant is located at our very own Phuket Elephant Nature Reserve!
But we haven't included it in our list lightly, so don't just take our word for it.
It has been voted as the number one local Thai restaurant in Phuket!
Enjoy a range of delicious dishes from our amazing chef including a Western, Thai, Isan (Northern Thai), Vegan, and Kids' menu, and more favourites, plus coffee, tea, smoothies, and other drinks!
For the ultimate experience be sure to join one of our ethical elephant adventures including our accredited Half-Day Elephant Adventure in Phuket or our exciting, shorter 90-Minute Elephant Adventure in Phuket!
Eat delicious food, admire the beautiful surroundings, and see our incredible elephants — what could be better?
Suay Cherngtalay
4, 177/99 Moo 6 Si Sunthon, Thalang District, Phuket 83110, Thailand
Suay Cherngtalay is little more than a five-minute drive from our elephant sanctuary and serves a tempting range of Thai fusion dishes.
In addition to the stunning location, Suay Cherngtalay is also overseen by Chef Tammasak (Noi) Chootong, one of Thailand's most notable chefs.
Baan Kway Teow
2836+6RW, Choeng Thale, Thalang District, Phuket 83110, Thailand
Located east of Bangtao Beach and north of the Porto de Phuket shopping centre, Baan Kway Teow is a renowned noodle house here on the island.
While they have a varied menu of tasty dishes, Baan Kway Teow is especially famous for Khao Soy, a delicious curry noodle soup originating from Northern Thailand.
Expect fresh, delicious food at budget-friendly prices.
Are you only in Phuket for a short time? Find more travel inspiration with our guide What Would Be a Good Itinerary for 3 Days in Phuket?
Ma Doo Bua
310 51 M.1 Baandon-Cherngtalay Rd Tambon Thep Krasatti, Thalang District, Phuket 83110, Thailand
If you want a picturesque backdrop with your coffee and a bite to eat, Ma Doo Bua is hard to beat!
And while this cafe and restaurant serves a varied menu of Thai meals, it's most famous for its photogenic view.
The star of the show is an artificial lake on which unusually large giant water lilies (Victoria Amazonica) float.
And with traditional red, wooden Thai houses surrounding the lake, you can take some vibrant photos, especially when the sky is blue.
Check out our tips for five unique things to do in Phuket, Thailand, for even more one-of-a-kind experiences.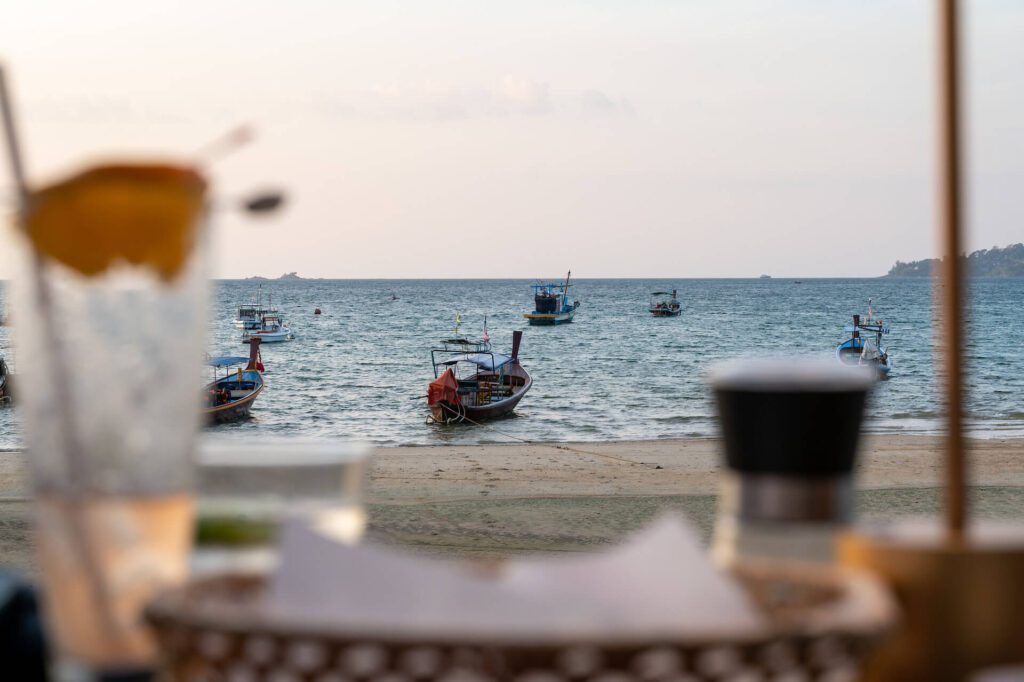 Carpe Diem Beach Club
99/1 Bangtao Beach Road, Choeng Thale, Thalang District, Phuket 83110, Thailand
Carpe Diem offers an all-round incredible dining experience. It has fantastic food, it sits right on Bangtao Beach, and the atmosphere is relaxed and easy-going.
Seating options include those with direct views over the Andaman Sea, amongst the palm trees on comfortable loungers, or a covered area with soft lighting.
The menu has a dedicated page of succulent Thai dishes, but Carpe Diem is famous for its exquisite international cuisine.
This is a true touch of class nestled in the south end of Bangtao Beach and one of our top five best beach clubs in Phuket.
HoiZapp Seafood
133/18 Si Sunthon, Thalang District, Phuket 83110, Thailand
HoiZapp Seafood is another restaurant close to The Phuket Elephant Nature Reserve — and close to our hearts!
This friendly, welcoming spot is a great local restaurant for food from the Isan region in Northern Thailand.
The menu is packed with delicious traditional foods and all at affordable prices and provides both indoor and outdoor local sala-style seating.
25 Congee Branch 2
ถลาง, Tambon Choeng Thale, Thalang District, Phuket 83110, Thailand
Loved by locals, this hidden place is known simply as "25". If you're looking for a truly authentic Thai experience, complete with low prices and great service, this is one for you!
And best of all, it's open late too, so it's perfect for swinging by at the end of a long day of adventures.
It's nothing fancy, but just great, hearty food served by super-friendly hosts.
If you're more of a night owl than an early bird, you'll love our recommendations for the best things to do in Phuket at night.
Benny's Cocktail & Grill
5/6 Soi Had Bangtao cherngtalay, Thalang District, Phuket 83110, Thailand
A stone's throw from the southern end of Bangtao Beach, Benny's Cocktail & Grill is a high-end dining experience.
The ambience is perfect for all manner of purposes, from dates to business meetings.
As a grill house, the focus here is on more international food, but we simply couldn't leave it off this list.
Some of the highlights on the menu include Wagyu, tenderloin, ribeye, tomahawk, tuna, and salmon steaks.
We strongly recommend making a reservation to avoid disappointment.
Laem Hin Seafood
Overlooking Coconut Island on Phuket's east coast, this restaurant offers an impressive range of fresh local seafood.
Crab, prawns, lobster, and all manner of fish — this is heaven for seafood lovers.
And in addition to the charming location and mouthwatering meals, expect local prices and a warm welcome.
Are you worried that Phuket might not live up to the hype? Read our guide Is Phuket Overrated? for some pre-trip peace of mind!
Pork Smoke House
X8HJ+J9X, Si Sunthon, Thalang District, Phuket 83110, Thailand
Another local favourite here in Phuket, Pork Smoke House provides famously large portions at prices that won't break the bank.
This is another must-visit restaurant for a true local experience, right down to the traditional Thai music playing in the background.
Expect delicious Thai food cooked and served by amazing staff!
Ab Zab
Nestled on the coastal cliffs of Kalim Bay, Ab Zab serves up tasty local Thai cuisine with beautiful views across Patong Bay.
This is a charming, family-run restaurant with a local welcoming vibe.
The focus here is on providing outstanding food at fair prices in a stunning location — and that's exactly what they do!
Have you decided whereabouts in Phuket you're staying? If not, our guide Where to Stay in Phuket is packed with useful advice.
Pha Chom Tawan
Pha Chom Tawan sits perched on a hilltop overlooking "Millionaire's Mile" on Phuket's west coast.
These breathtaking views combine with a rustic setting, a range of local Thai dishes, and attractive prices to create a truly local 5-star experience.
Try to time your meal with the sunset for an even more memorable meal.
Thanoon Seafood
Another local gem with a wide range of delicious Thai dishes, Thanoon Seafood is nestled at the foot of the famous Sarasin Bridge.
As far as we're concerned, this is an essential visit for anyone staying in the Mai Khao area.
In fact, Thanoon Seafood and Sarasin Bridge are among our recommendations for the best things to do in Mai Khao, Phuket.
On your visit, ask about the catch of the day to ensure you order some of the freshest seafood you will ever eat!
Baan Rim Pa
Last but by no means least, we highly recommend a trip to Baan Rim Pa. This incredible, multi-award-winning restaurant is renowned throughout Thailand and around the world.
Perched on a stunning cliff-side location, Baan Rim Pa overlooks the Andaman Sea.
Every table here has a wonderful panoramic view of the glistening ocean. Naturally, sunset is an especially special time to dine here.
Expect Royal Thai cuisine, an exceptional wine cellar, an impressive cocktail bar, and a pianist at a grand piano setting a sophisticated ambience.
Our Phuket Elephant Tours Create an Even More Authentic Thailand Experience
Has this guide to the best Thai food places in Phuket inspired you to start planning your adventure in Thailand?
The local food scene is one way to find an authentic Thai experience, and our ethical elephant activities in Phuket are the perfect complement.
If you have any questions about our opportunities to experience Thailand's national animal, please don't hesitate to contact us.