Let us start this blog by saying that it's impossible to capture the full essence of our enchanting island in just one day! As with any destination rich in culture, history, culinary delights, natural wonders, and heart-racing adventures, a single day simply isn't enough.
However, at Phuket Elephant Nature Reserve, we always go the extra mile! So while there's no such thing as a 'best' one-day Phuket itinerary for all travellers, we have provided some ideas below to help you create a schedule that makes the most of your limited time.
Of course, the ideal solution is to stay in our part of paradise for longer! That means you can take your time exploring everything our island has to offer, from picture-perfect beaches to ethical elephant activities in Phuket.
For now, though, let's take a look at our suggestions for what to do in Phuket in one day. We have made recommendations for the morning, afternoon, and evening, but you can move these around to better suit you.
If any questions come to mind while you read, please get in touch with the PENR team for the information you need.
Thonglor, our 3rd rescued elephant, enjoying a walk around our sanctuary
One-Day Phuket Itinerary: Ideas for How to Spend Your Morning
How you decide to start your day could depend heavily on whether you're a morning person! To find the best balance, we've provided two experiences that are relatively easy-going but also quintessentially Thai.
Enjoy Ethical Elephant Activities with Us!
Kickstart your day with a visit to our ethical elephant sanctuary – a haven for these magnificent creatures. Our Phuket elephant activities focus on observation and education, so you can be certain that the health and well-being of our rescued animals are our priorities.
Watching these gentle giants roam around and play in their natural habitat is a truly heartwarming and authentic experience, just as nature intended. When you leave us, you'll have a far greater appreciation for these unique animals.
The morning program for our Private Half-Day Phuket Elephant Adventure runs from 9 am to 12:30 pm and includes a cooking demonstration and lunch.
If you are a morning person and you want to explore Phuket's beautiful countryside in cooler temperatures, consider joining a Private Guided Adventure Hike here at our sanctuary.
Soak Up Some Culture at Wat Choeng Thale and Wat Sri Sunthon
Immersing yourself in the rich cultural heritage offered by Phuket's many temples is another amazing morning experience. Just two of our favourites are Wat Choeng Thale and Wat Sri Sunthon, the latter of which features a large reclining Buddha statue.
The intricate architecture, serene atmosphere, and vibrant surroundings at these and other temples offer a glimpse into the island's spiritual and historical roots. Take a moment for quiet reflection and capture the beauty of these sacred sites.
Remember to behave respectfully and to dress conservatively if you visit a temple. This means you should cover your shoulders and ensure that any shorts and dresses are smart and knee-length.
If you've got more time to play with, you may want to consider visiting some of our other picks for the five must-see temples in Phuket.
Looking for even more cultural inspiration? We think you'll love our blog Top Things to Do in Phuket for Culture Lovers.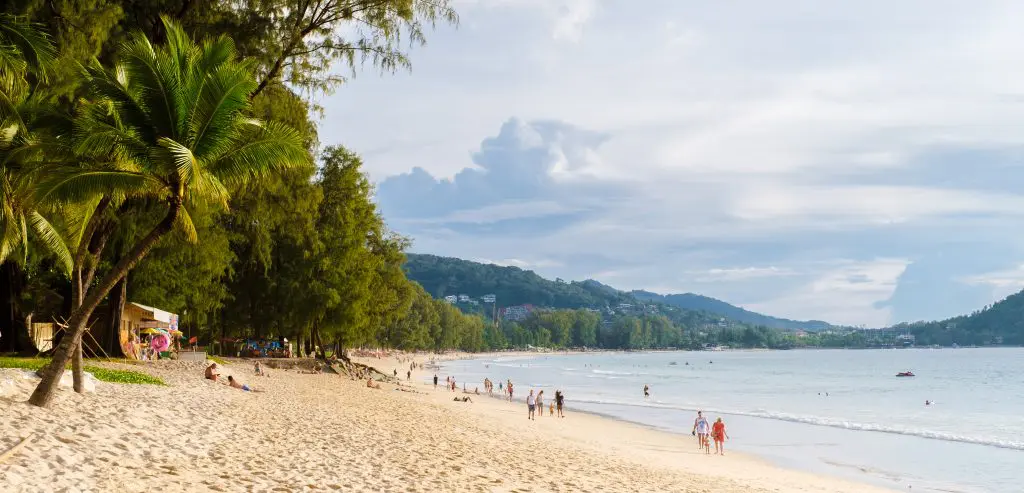 What to Do in Phuket in One Day? Afternoon Ideas
Phuket is close to the equator, so we have a tropical monsoon climate. This means that as the afternoon approaches, the temperatures will reach their peak! With this in mind, we've focused our attention here on keeping cool.
You'll probably be hungry by this point too. If you visit Phuket Elephant Nature Reserve, you can eat at our highly-rated Ban Chang Restaurant Phuket. If you're elsewhere, however, see if you're close to any of our other choices for the best Thai food places in Phuket.
Have a Fun-Filled Time at Blue Tree Phuket
For a refreshing afternoon, head to Blue Tree Phuket! This vibrant destination offers a mix of relaxation and excitement. Whether you're lounging by the pool, indulging in water activities, or shopping for souvenirs and gifts, Blue Tree Phuket provides the perfect escape, especially for families. 
The park has numerous sections appealing to a broad range of interests. Head to the lagoon and its water sports centre to make a splash in the stunning azure water. The lifestyle village has a shopping mall for retail therapy, and there's even a dedicated water sports club.
And if you're travelling with little ones, there are plenty of child-friendly activities, including an adventure playground.
Cool Off at Beautiful Bangtao Beach
If you want a more natural experience, venture to picturesque Bangtao Beach. This over 6-km-long stretch of golden sand and crystal-clear water is ideal for a leisurely stroll, beachcombing, a cooling swim or enjoy one of the many massage stands. Of course, you can also just bask in the sun!
Treat yourself to a coconut refreshment from a beachside vendor and relish the laid-back, family-friendly atmosphere.
Given its length, it's easy to find a quiet spot on Bangtao Beach, if that's what you prefer. Generally speaking, the northern end of the beach (called Layan Beach) is much more peaceful, with the occasional small bar here and there.
The southern end is home to hotels and beach clubs, so it's much livelier, especially at night. But more on that below!
If you're already considering staying longer in Phuket, check out our blog What Should I Do with a Week in Phuket? 
Enjoy the Shopping at Porto de Phuket and Boat Avenue Phuket
Explore the vibrant Porto de Phuket and Boat Avenue Phuket for a taste of local shopping and dining. These two impressive retail centres are essentially next door to each other, so there are plenty of shops to keep you busy!
Discover unique souvenirs, indulge in delicious street food, or savour a meal at one of the many restaurants offering a variety of cuisines.
Boat Avenue, a mall consisting of repurposed shipping containers, took inspiration from a similar project in Christchurch, New Zealand. Having cemented its reputation as a popular shopping destination, people flock here from the Bangtao, Layan, Kamala, and Surin beach areas.
Porto de Phuket is a single-storey mall that covers a huge surface area. It has an incredible Central Food Hall Supermarket, a branch of Super Sports (for swimwear and football shirts!), and much more.
Both of these shopping hotspots feature in our list of the best shopping destinations in Phuket.
One-Day Phuket Itinerary: Ideas for How to Spend Your Evening
Much like the morning, how you spend your evening in Phuket depends on your preferences. You may be tired from adventures during the day and looking to take it easy. Or maybe you're full of energy and want to have an evening of fun!
Our blog about the best things to do in Phuket at night takes a more detailed look at this topic. For now, we have provided a couple of options below that we think will appeal to most travellers.
Finish the Day in Style at Carpe Diem Beach Club
As the sun begins to set, head to the Carpe Diem Beach Club at the southern end of Bangtao Beach for a relaxed evening by the shore. Enjoy a cocktail, take in the breathtaking views, and unwind in this stylish beachfront setting. With a menu including imaginative Mediterranean cuisine, this is also a brilliant place for dinner.
Carpe Diem celebrates the finer things in life with class, elegance, and subtlety. The laid-back atmosphere and unobtrusive soundtrack create the perfect ambience for a memorable evening. There aren't many better ways to pass a sultry night in Phuket.
We ranked Carpe Diem as one of the best beach clubs in Phuket.
Immerse Yourself in the Atmosphere of a Night Market
Phuket is home to many incredible night markets, each one a captivating gateway into local life here on the island. Night markets are sensory experiences; the aroma and taste of delicious street food, the colourful products on the stalls, the sound of live music and entertainment, and the bustle of the crowd.
Just two of our picks for the best night markets in Phuket are the Wansao Night Market at Blue Tree Phuket and the Friday Night Fun Market at Boat Avenue.
The Wansao Night Market takes place at the same Blue Tree Phuket mentioned above. It has market stalls, food trucks, drinks, live DJs, arts and crafts, kids' activities, and an outdoor cinema.
As Phuket's first boutique community mall and open-air amphitheatre, this night market isn't just in a wonderful setting, but it's also suitable for families, friends, and couples.
Boat Avenue's Friday Night Fun Market is smaller but still vibrant. And as you may have guessed, it pops up every Friday night!
Only a short distance from Bangtao Beach, this spot has everything a great Thai night market should: shopping, drinks, food, and plenty of locals.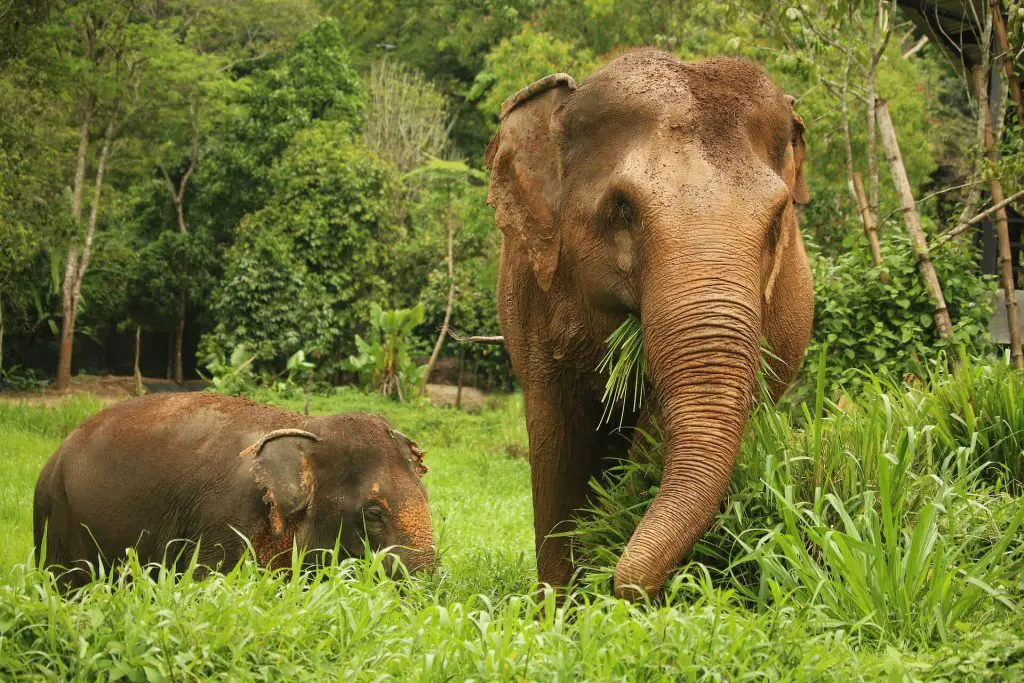 Lotus & Bow love spending time together
Support Ethical Elephant Experiences in Phuket
So, what should you do in Phuket in one day? That's up to you now! It's important to remember that a single day cannot fully encapsulate the wonders of Phuket, but this itinerary provides a delightful taste of the island's diverse offerings.
No trip to our island is complete without enjoying Phuket elephant activities. Browse our range and find the perfect fit for you. By supporting ethical elephant experiences, you contribute to our ongoing conservation efforts.
Do you have any questions for our team? Please get in touch for all the answers you need.