On the island of Phuket, there are more than 25 temples dedicated to major world religions. Though Buddhism is the predominant religion in the country, there are other faiths dispersed throughout the country, and many sites of worship are scattered along the bustling streets of Phuket. But with so many options, how will you choose between the must-see temples in Phuket?
At the Phuket Elephant Nature Reserve, we love every inch of Thailand's beautiful and varied landscape. From its vibrant cities and rich history to the idyllic beaches and towering verdant mountains, we love sharing everything this beautiful country has to offer.
A Little Information About the Phuket Elephant Nature Reserve
As the national animal of Thailand and an endangered species, elephants are deeply important to the country, and to our team. Located just 25-30 minutes northwest of Phuket City, our natural reserve provides a safe and sustainable home for rescued Thai elephants.
After you've seen all the must-see temples Phuket has to offer, including one near our reserve, we'd love to show you our elephant activities in Phuket where you'll learn how we care for these gentle giants.
Our tours are one of the more unique things to do in Phuket. So if you're looking for a fun and educational excursion to enhance your Thailand experience, get in touch with us to find out more about the elephants in our nature reserve.
But, in the meantime, let us take you on a whistle-stop tour of the top 5 must-see temples in Phuket!
The Phuket Big Buddha
The Great Buddha of Phuket, or Phuket Big Buddha, is a 45-metre white marble Buddha statue sitting serenely atop Nakkerd Hill, near Chalong. Weighing in at more than 135 tonnes, this depiction of Gautama is the main Buddha of the Wat Kitthi Sankaram temple.
Entrance to the temple is free and it is accessible by taxi, scooter, or on foot. The latter is the most challenging route: at 4.8 miles, the trail takes just under three hours and is a bit of a challenge! Climb the 94 steps to reach the Big Buddha statue and take in the panoramic city views.
Like all other temples in Phuket, we recommend covering shoulders and wearing longer shorts and skirts. Sarongs are available to borrow here, too.
Wat Phra Thong
Before we introduce our following recommendation for the best places to visit in Phuket, the Thai word for temple is 'wat' – which you'll be seeing a lot on your travels!
Wat Phra Thong is an ornate temple that is famous for its unusual Buddha statue. Both locals and tourists come to pray and visit the golden statue, whose upper half emerges from the ground.
Many have tried to dig it up but none have succeeded. The Thai legend suggests that when the Burmese invaded in 1785, a swarm of hornets descended on them each time they tried to remove the statue! Its unique origins make Wat Phra Thong a must-see temple.
Wat Phranang Sang
This is another dazzling temple with mythical origins. Read more about the Phra Nang Lewd Khao ("a lady with white blood") to discover the story behind this magical temple that is thought to be hundreds of years old.
Enshrined in the chapel at Wat Phranang Sang are three of the oldest Buddha statues in the world; they are nicknamed the Three Kings.
The Phuket Elephant Nature Reserve is just 15 minutes south of the temple by car, so why not visit us after you've experienced the glimmering gold-plated glory of Wat Phranang Sang? Our Half-day Elephant Adventure in Phuket is a perfect way to end a magical day.
Jui Tui Shrine, near Old Phuket Town
Nestled in the heart of Old Phuket Town, the Chinese Jui Tui shrine is a Taoist temple that welcomes visitors and worshippers with colourful gates and large pillars decorated with golden dragons.
Its name comes from the canal that used to flow in front of the temple's gates, with "jui" meaning water and "tui" meaning white mortar in Chinese. Though the canal is no longer there, Jui Tui Shrine is surrounded by Sino-Portuguese buildings and colourful 19th-century shophouses.
This temple is one of the best places to visit in Phuket during October and November when the annual Phuket Vegetarian Festival is held. Soak up the rich local history and delicious street food whilst celebrating with the locals!
Wat Suwan Khirikhet
The final item on our list is one of the most calming temples we've ever visited. Wat Suwan Khirikhet is located just a 10-minute walk from Karon Beach on the west coast of Phuket. Far from the throngs of tourists in some of the larger temples, Wat Suwan Khirikhet is a haven for calm reflection.
Its multicoloured and detailed exterior is a real feast for the eyes! The temple's gold-plated spires pierce the clear blue skies and two large green Nagas (serpents) welcome you at the entrance, circling the entire complex.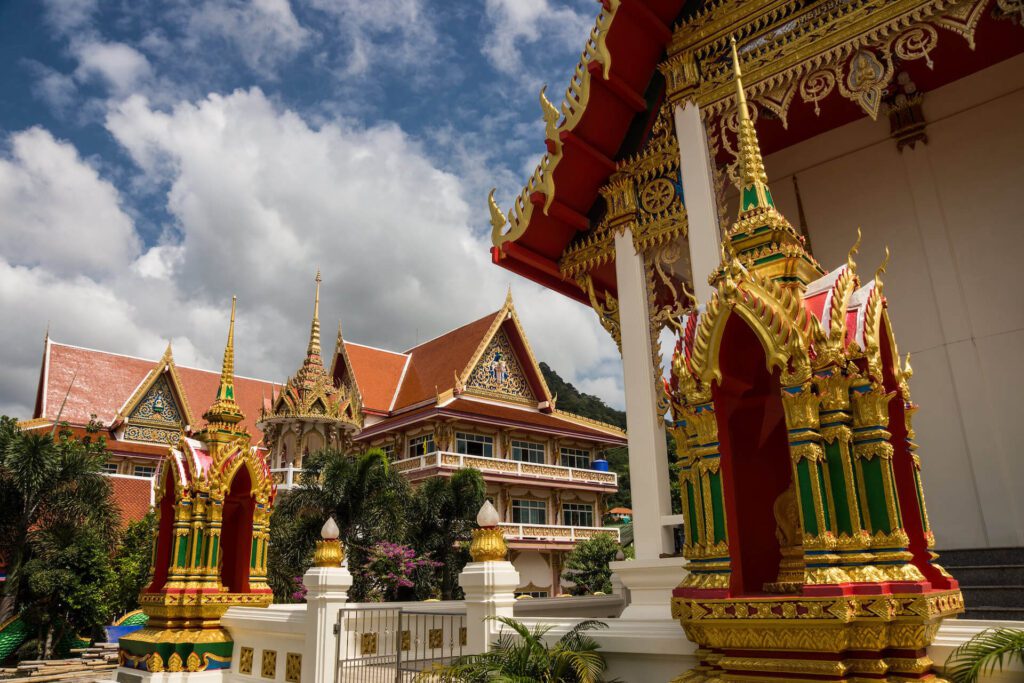 While there are more than 25 temples or wats in Phuket, we hope this brief list has given you a taste of their range and splendour. How many temples will you tick off your list? Let us know!
If you're planning any day trips north of Phuket City, we'd love to see you. Drop in for our morning or afternoon elephant activities in Phuket.
If you have any questions about our experiences, get in touch. We can't wait to hear from you to help plan your Thai travels!