Exploring a new destination can soon put a strain on your travel budget. That's why balancing some of the more luxury expenses with budget-friendly experiences is so important.
Phuket is one of Thailand's most expensive provinces, but the general cost of living here is still relatively cheap compared to what most visitors are used to at home.
There are plenty of activities to enjoy that are either free, involve a small fee, or offer incredible value for money.
At Phuket Elephant Nature Reserve, we call this special island home. When we're not providing ethical elephant activities in Phuket, we're out exploring and making the most of our life in paradise.
This means we have all the local insights needed to recommend the best cheap things to do in Phuket that won't break the bank. Scroll down to dive into our selections!
If you have any queries for our team in the meantime, please contact us.
Visit One of Phuket's Lively Night Markets
Phuket comes alive at night with its vibrant night markets. The Walking Street Market in Old Phuket Town, the Naka Weekend Market, and the Phuket Indy Market are just some of the best spots you should consider visiting.
These markets offer a sensory overload of sights, sounds, and smells. They're also a great way to experience local life.
You can shop for souvenirs, clothing, and local crafts while indulging in delicious street food. If you're lucky, you may even see some live entertainment.
Check out our guide to the best night markets in Phuket to learn more about this quintessential Thai experience.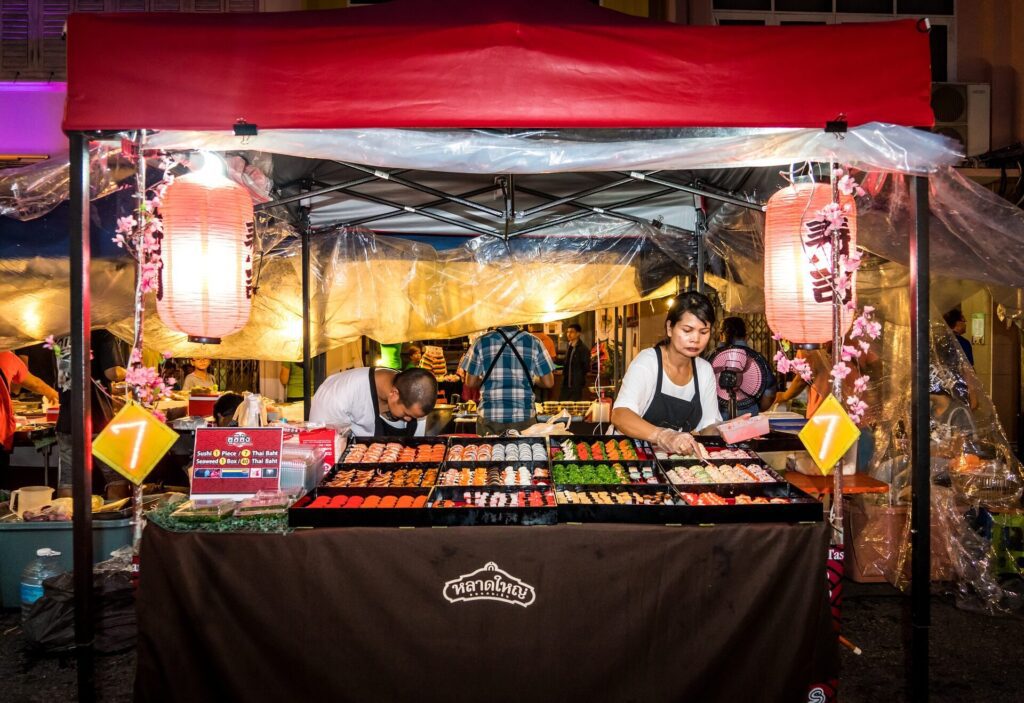 Explore the Delicious World of Thai Street Food
Another way to immerse yourself in Thai culture is through its street food.
From the aromatic Pad Thai to the spicy Tom Yum Goong, you'll find a wide range of affordable and delectable dishes at street food stalls across our island.
Don't miss out on the opportunity to taste the authentic flavours of Thailand without spending a fortune.
Our blog The Best Street Food in Phuket takes a deeper dive into this tasty topic.
And because food is a cornerstone of any travel experience, we think you'll love our recommendations for the best Thai food places in Phuket too.
Visit Big Buddha and Other Temples in Phuket
A visit to Phuket wouldn't be complete without paying your respects to the iconic Big Buddha.
This massive 45-meter-tall statue offers panoramic views of the island and serves as a symbol of peace and serenity.
But Phuket is home to more than 25 Buddhist temples alone, so you can continue to explore its rich spiritual heritage at Wat Phra Thong and Wat Chalong, to name only two.
These temples are not only culturally enriching but also free to enter (though donations are appreciated).
If you want to discover the spiritual side of Phuket, we think you'll love reading our blog The Must-See Temples in Phuket.
Admire the Architecture of Phuket Old Town
Wander through the charming streets of Phuket Old Town and admire the captivating Sino-Portuguese architecture.
The colourful buildings, ornate facades, unique boutiques, and quaint cafes make it a perfect spot for leisurely strolls and fantastic photo opportunities.
It's a piece of Phuket's history that won't cost you a penny to enjoy.
Phuket Old Town is also home to cultural gems like the Thai Hua Museum. If you're interested in diving into the cultural treasures of our island, our blog Top Things to Do in Phuket for Culture Lovers can help you plan some fun and fascinating experiences.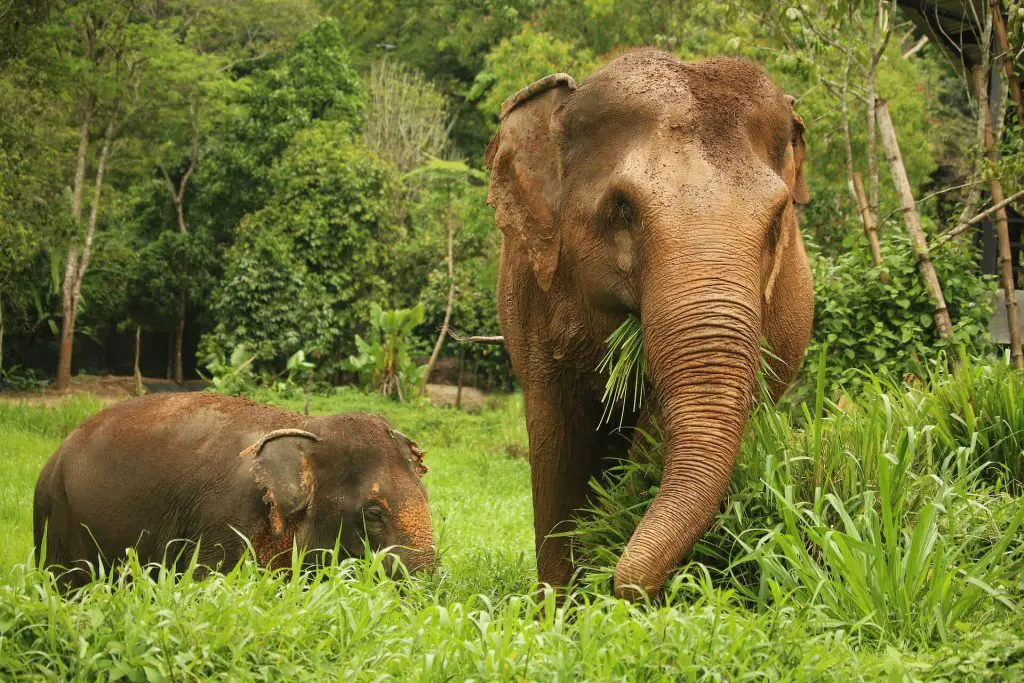 Enjoy an Elephant Experience at PENR
Thailand is synonymous with elephant experiences, so you will likely want to book your own while in Phuket.
But it's important to support sanctuaries that promote ethical and sustainable practices. At Phuket Elephant Nature Reserve, that's exactly what we do!
We prioritise the well-being of our rescued elephants, which is why our experiences involve observing and learning about these giant giants.
This not only ensures you have a clear conscience after your experience, but it's also more authentic as you witness these extraordinary creatures living a happy life as nature intended.
And, of course, you have peace of mind in knowing that your entrance fee supports our ongoing mission.
Take a closer look at our highly popular Short 90-Minute Elephant Adventure in Phuket to learn about what you can expect from the cheapest of our elephant activities.
Why not read our Complete Guide to Phuket's Elephants before your visit too? It offers a fantastic introduction to Thai elephants.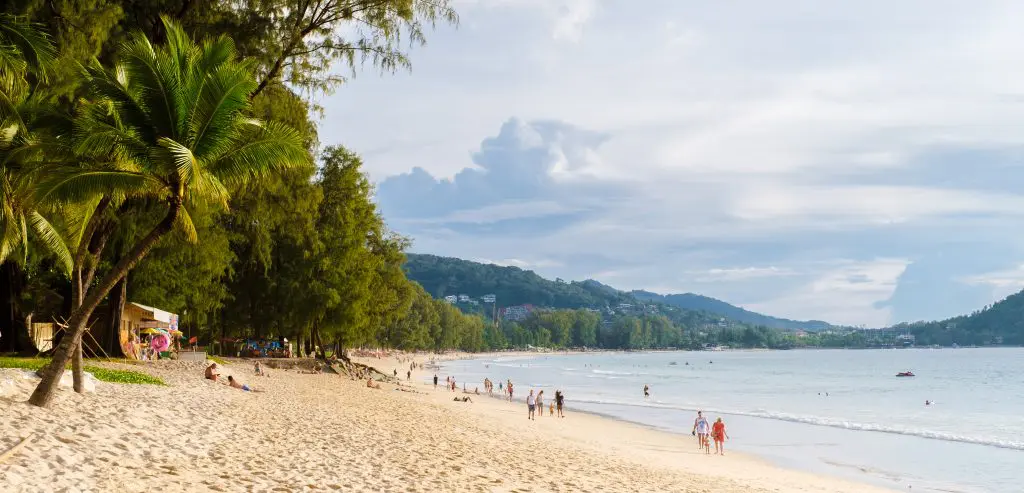 Spend a Day (or More) at Phuket's Beautiful Beaches
Phuket is renowned for its pristine beaches, and the good news is that most of them are free to access.
Spending a day by the ocean is a budget-friendly way to relax and soak up the sun, especially after a long flight or a day or two of adventures.
Just some of Phuket's best beaches include:
Bangtao Beach
Surin Beach
Kamala Beach
Patong Beach
Freedom Beach
Karon Beach
Kata Beach
Mai Khao Beach
Find a Peaceful Moment at Phuket's Breathtaking Viewpoints
Experience Phuket from a different perspective by visiting its breathtaking viewpoints.
Just two of our favourites are Kata Noi Viewpoint and Promthep Cape, both of which offer panoramic vistas.
These natural wonders won't cost you a penny and provide an excellent backdrop for unforgettable photos.
And because they face westwards, they're stunning spots to enjoy a sunset too.
Stock Up on Essentials at Super Cheap!
If you're staying in Phuket for a while, you'll need to buy supplies at some point. One of the best ways to do this while keeping costs down is to visit the popular Super Cheap.
These budget shopping destinations are treasure troves of everyday items, from clothing and electronics to snacks and souvenirs.
While it may not be a traditional tourist attraction, Super Cheap is a great place to find bargains and immerse yourself in another aspect of local life.
No matter how long you're staying, our Visitor's Guide to Phuket is an essential resource. It's filled with useful tips and practical information that can help you make the most of your time here.
Turn Your World Upside Down at Baan Teenlanka
Baan Teenlanka is a truly unique experience! It's fun for all ages, but especially for families looking to keep children entertained!
The star of the show here is the Upside Down House Museum. It's exactly what it sounds like — a traditional house turned on its head, allowing for dizzying photo opportunities!
Once you're back on solid ground again, you can also explore the Garden Maze and test yourself against the Room Escape Game.
The entrance fee is minimal, making it an excellent choice for budget-conscious travellers seeking a fun day out.
Do you need help finding the best place on our island to stay with your family? Read our blog Where is the Best Place to Stay in Phuket for Families? and find our recommendations.
Soak Up Phuket's Stunning Scenery on a Hike
If you want to explore Phuket's stunning natural beauty on an active adventure, you can put on your walking shoes and hit one of the many outstanding hiking trails.
The walk to Kathu Falls is a short and relatively easy route that's a budget-friendly way to connect with nature. The rainy season creates a much more impressive waterfall, but take care when walking on potentially slippery rocks.
You can also hike from Karon or Kata Beach up to Big Buddha, but this is a far more strenuous walk involving steep inclines. And remember, you must dress conservatively to visit this revered temple, so don't just set out with beachwear.
The walk between Patong and Paradise Beach is another pleasurable hike, while Sirinath National Park in the north offers incredible natural experiences. We included the latter in our list of the best things to do in Mai Khao, Phuket.
You can also enjoy a Private Guided Adventure Hike in Phuket with us!
Heading into the jungle surrounding our sanctuary with an expert guide is the perfect way to immerse yourself in Phuket's lush scenery and encounter some of our island's wildlife. 
Support Ethical Elephant Activities in Phuket
We hope you've enjoyed this list of 10 cheap things to do in Phuket and find it useful in planning your time here in paradise.
Don't forget to browse our range of Phuket elephant activities and find out how you can enjoy the company of our beautiful rescued elephants.
Do you have any questions for our team? Please get in touch for all the information you need.