Are you planning a delightful family getaway in Phuket? If yes, you've come to the right place!
As a leader in ethical elephant activities in Phuket, we know our island inside out. And having welcomed countless families to our sanctuary, we understand how important it is to find the perfect spot to make your vacation truly memorable.
We've used our local expertise to put together this list of the best places for families to stay in Phuket to help make your holiday planning a little easier!
If you have any questions for the Phuket Elephant Nature Reserve team, please contact us.
For now, though, let's look at our picks for the best places for families to stay in Phuket.
Bangtao Beach: Paradise with All the Amenities!
The stunning Bangtao beach is arguably the most popular in Northern Phuket. It spans an incredible 6 km in length, making it one of Phuket's longest beaches.
Given its size, sections of this beach have different names. The southern stretch carries the name Bangtao, while the middle — which is home to several excellent hotels — is known as the Laguna complex.
At the northern end, you have Layan beach. This is another excellent spot for families visiting Phuket, and we cover it in more detail below.
Bangtao offers everything you need in one area, such as beach-facing hotels and swimming pools, shops and shopping malls, markets, restaurants, beach clubs, massages, schools, clinics, and much more.
Bangtao Beach is also less than a 15-minute drive to Phuket Elephant Nature Reserve and an amazing experience with our rescued elephants!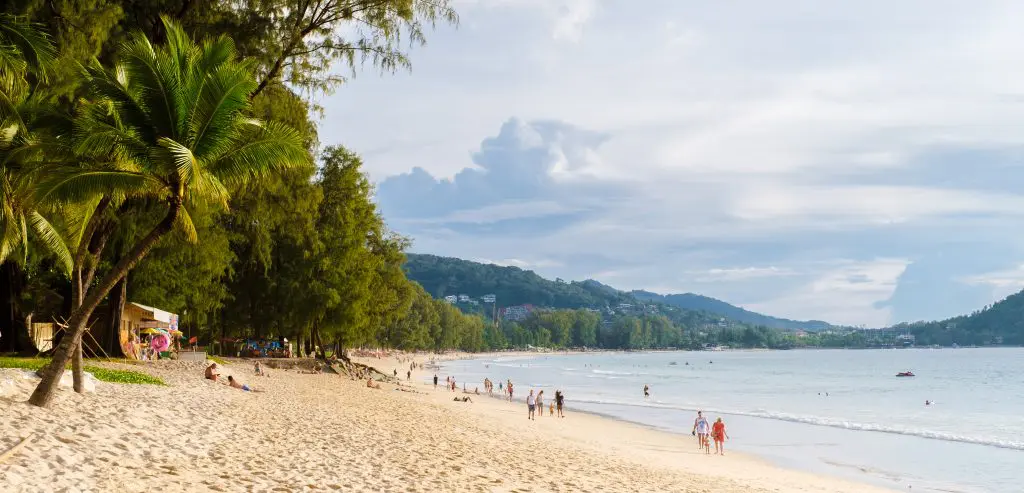 Surin Beach: The Perfect Blend of Calm and Entertainment
Surin Beach strikes the perfect balance between relaxation and entertainment.
Families seeking a blend of serenity and a lively atmosphere will fall in love with this area.
The crystal-clear waters and soft sands are postcard-perfect, while the selection of restaurants and shops offers a taste of local life.
And the beach is just the beginning — resorts in Surin ensure family-friendly stays with interconnected rooms and inviting swimming pools.
Of course, given its location, Surin Beach is also only a short drive from our sanctuary.
Find even more holiday inspiration with our picks for the most unique things to do in Phuket.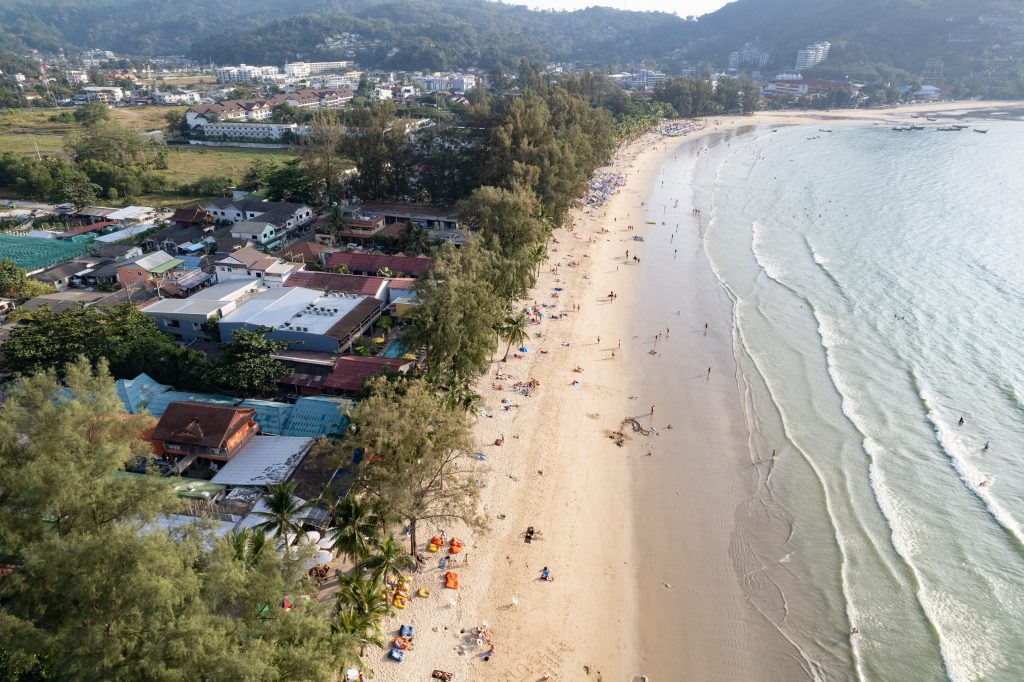 Kamala Beach: A Peaceful Haven for Quality Time
If you're after a quieter escape, Kamala Beach is your ticket to family serenity.
Away from the hustle and bustle, this relaxed bay beach and fishing village offers a peaceful retreat for families seeking a tranquil environment.
Picture-perfect sunsets, crystal-clear water, golden sand, and wooded hills create the backdrop for those unforgettable family moments.
The beach is lined with charming restaurants and beach clubs, perfect for a relaxing meal by the sea.
A handful of resorts here cater to families, offering family suites and on-site childcare services for some well-deserved parent relaxation.
Kamala Beach sits in the middle of Phuket's West Coast and is around a 40-minute drive from Phuket Elephant Nature Reserve.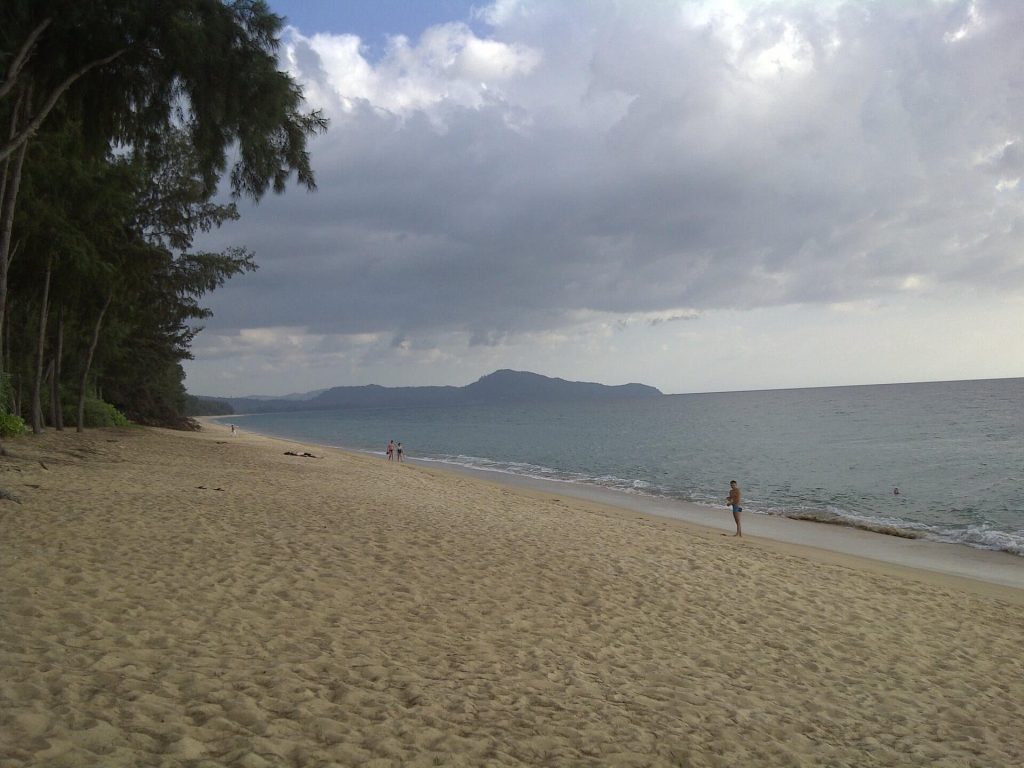 Mai Khao Beach: Seclusion and Natural Beauty
Welcome to Phuket's longest beach! Mai Khao stretches from an incredible 10km (6.2 miles)!
For families who prefer the road less travelled, Mai Khao Beach is your hidden gem. Nestled in the island's north, it's less developed than some areas, but the luxury five-star resorts here are well-equipped for families.
You can enjoy everything from Thai massages to cooking classes to a day out at Splash Water Jungle!
With spacious suites and kids' clubs, you'll find a paradise within a paradise.
Sirinath National Park sits at the beach's southern end, as does Phuket International Airport. This means you can stand on the beach and watch (and feel) planes coming in to land!
Read our tips for the best things to do in Mai Khao, Phuket, and discover more about this beautiful part of our island.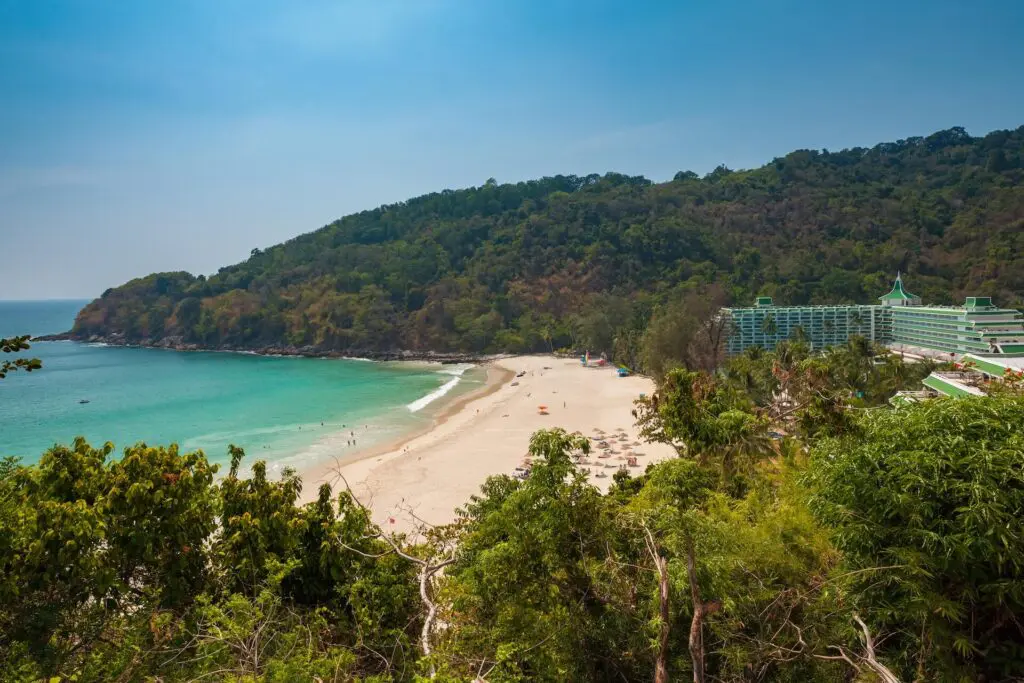 Karon Beach: Where Family Bonding Takes Center Stage
At 4km long, Karon Beach is more than twice the length of its neighbour, Kata Beach. It also attracts more people, so it has more energy about it.
This lively atmosphere makes it an excellent option for families without feeling overwhelmed.
The expansive stretch of gold sand and calm, inviting water provides plenty of space for family games and relaxation.
Nearby dining options and shops are abundant, giving you a taste of Phuket's vibrant and diverse culture.
For families with younger ones, don't worry — there are family-oriented resorts with pools and dedicated children's play areas that ensure endless fun.
Check out our recommendations for the best family-friendly things to do in Phuket with kids for even more ways to make the most of your time here.
Kata Beach: A Splash of Joy for Young Ones
Kata Beach is like a dream come true for families with younger children. Known for its calm water and gentle waves, it's an ideal playground for your little water enthusiasts.
But this beach isn't just about sandcastles — it's also packed with exciting water sports and even surf lessons for those daring tweens and teens!
And there's an even wider range of family-friendly activities nearby to keep everyone entertained.
For relaxing times, some resorts and hotels pamper families with amenities like swimming pools and kids' clubs, so the whole family can unwind and have fun.
If you want more action, Kata Beach Community Park has a playground for children and basic workout facilities for adults, all set in beautiful surroundings.
Kata Beach is also close to The Big Buddha, one of our recommendations for the must-see things in Phuket!
This 1.5km gold-sand beach is at the southern end of Phuket's west coast, immediately to the south of the bigger and busier Karon Beach.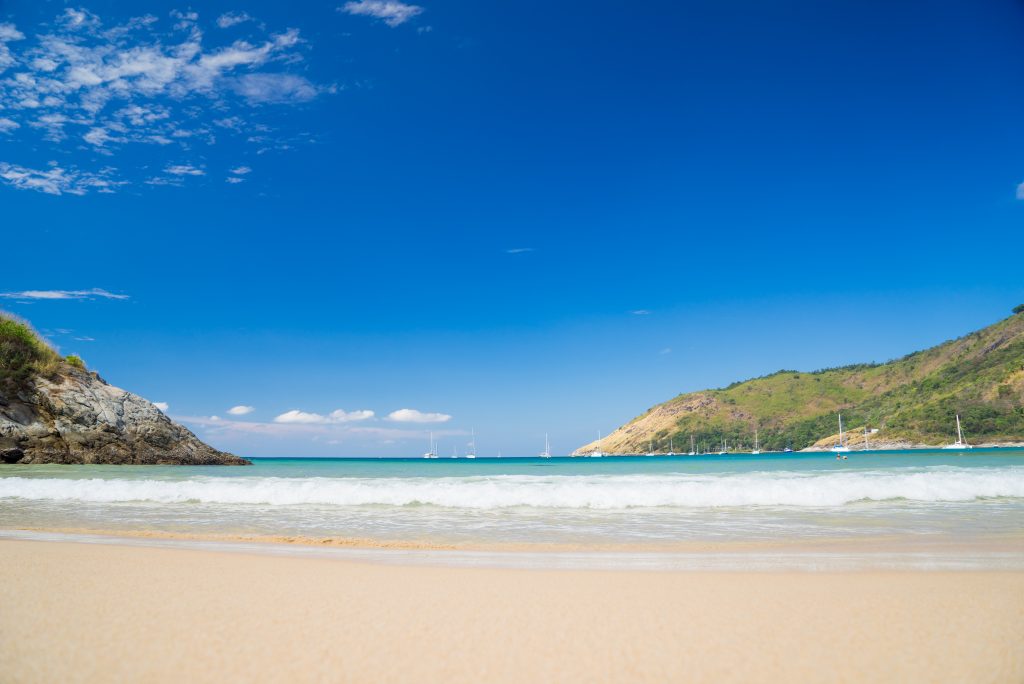 Layan Beach: A Peaceful Bay Near Bangtao Beach
Layan Beach, a beautiful but little-known spot that's a perfect sanctuary for families, is tucked away at the northern end of Bangtao Beach.
This is where the Kala River reaches the Andaman Sea. What's more, there's an island (Koh Kala) standing between Layan Beach and the ocean, creating a natural, secluded bay where small fishing boats bob on the calm, crystal-clear water.
The water is shallow and inviting, making it ideal for kids (and adults) who want to swim.
The area has a handful of luxury resorts, so you can find all the pampering and spa treatments you need! There are also plenty of great bars and restaurants to keep you refreshed and well-fed.
Although Layan Beach is slowly becoming more popular, it's still relatively calm and peaceful, making it ideal if you're truly looking to disconnect and relax.
But if you develop a craving for some retail therapy at some point, simply head to one of the best shopping destinations in Phuket.
Are Patong Beach or Phuket Old Town Suitable for Families?
The bustling Patong Beach and the charming Phuket Old Town can be a mixed bag for families.
Patong's lively nightlife might not be the most family-friendly, but there are pockets of attractions that older children might enjoy.
Phuket Old Town, with its historic streets and cultural sites, could be engaging for teens interested in history and art. And if this is true for your little ones, we think you'll love learning about the top things to do in Phuket for culture lovers.
Overall, just keep in mind that these areas are more suited for families with older children who can appreciate the vibrant energy and entertainment.
Our Ethical Elephant Activities are Family-Friendly!
So, where is the best place to stay in Phuket for families? Well, that's now for you to decide!
But if you're looking for the ultimate family-friendly experience while you're here, look no further than our ethical elephant activities in Phuket.
Seeing our gentle giants in person always puts a huge smile on the faces of adults and kids alike!
If you need more information about our Phuket elephant experiences, please get in touch.